400V v 800V: BMW says numbers game is 'not a competition'
The voltage of an EV's electrical architecture is "not a game" – that's the word from a senior BMW engineer, who defended the company's decision to run with a 400V system, as used by the most electric cars.
In announcing details of the upcoming BMW iX – a car that will undercut its key Mercedes-Benz and Audi rivals in Australia – the head of the iX project, Johann Kistler, said the car's 400V architecture was "the best compromise".
The Porsche Taycan – and the upcoming Taycan Cross Turismo spin-off – was the first EV to be fitted with an 800V electrical architecture, which Porsche chose to save weight, reduce charging times and increase performance.
The same architecture is used in the upcoming Audi e-Tron GT.
But while Kistler hinted that in the next few years BMW may up the voltage of its EVs, he says the iX performed as intended with a 400V system.
"In our mind it's not a game which has the best numbers," says Kistler.
"In our mind 400 volts … are really good. We look always to offer the best opportunity to have a battery to have electric engines for this and to have a good charging system.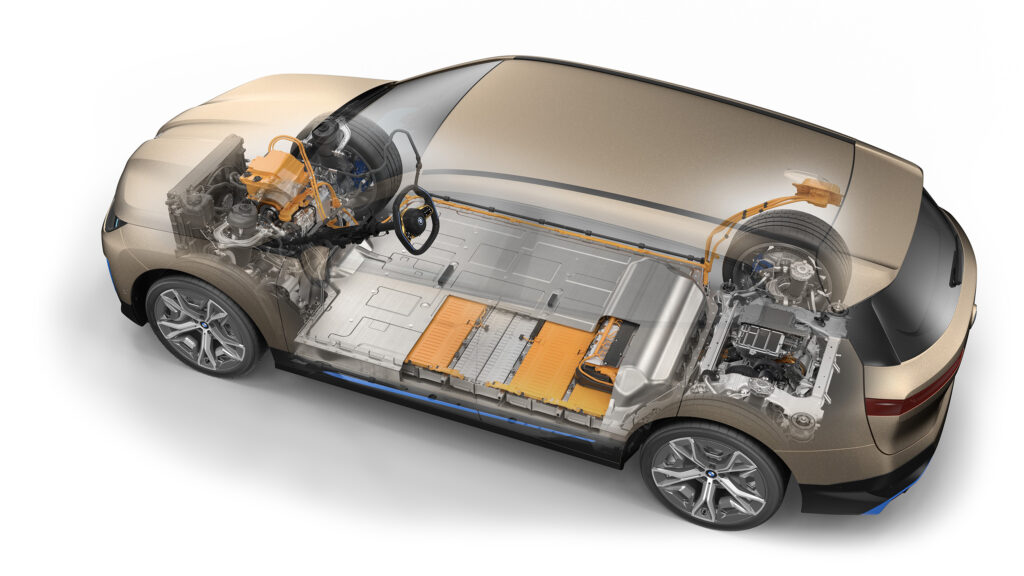 "In the moment we are sure the best compromise or the best way, not a competition of who has the highest voltage."
By doubling the voltage EV makers can halve the current to produce the same power. That means cars with an 800V architecture can run thinner cables to produce the same power.
The same runs true for charging. At 800V, a charging station can provide more power using the same cables.
That's one reason the upcoming Hyundai Ioniq 5, Genesis G80 EV and Kia EV6 can charge at up to 800V. Yamaha has also developed an EV architecture for supercars that runs an 800V system. Plus the upcoming BYD EA1 is expected to have 800V charging.
So, why not simply make an EV that runs at thousands of volts? Extreme voltages create issues with safety and sparking to the point where regulations begin stepping in.