Converting classics to electric: how to do it and how much does it cost?
Are you tempted to convert your classic car to electric power? Or perhaps you're taking on a restoration project and instead of fixing up the old internal combustion engine (ICE), why not fit one or more electric motors and a battery pack instead?
Electromodding has become increasingly popular in recent years, and the Australian businesses involved in the supply of electric parts, batteries or doing full turnkey conversions are seeing ever-increasing interest. All we spoke to were snowed under with work, too. Clearly, it's a burgeoning scene.
READ MORE: GM's electric eCrate electric car conversions due late 2021
READ MORE: Rolls-Royce goes electric with classic EV conversion
READ MORE: Classic 964 Porsche 911 reimagined as an EV – with exhausts!
We also get plenty of feedback here at EV Central, too, about people wanting to know about changing from fossil fuel to electricity.
Some folk deem removing a car's petrol- or diesel-powered heart a sacrilegious exercise. Valid, of course, but engine transplants have been going on since the automotive dawn (Carroll Shelby did alright from it), and if it helps preserve or even save a classic car then many agree it's a good thing. It's a solid pub debate to enjoy, but for those who don't deem an EV conversion the work of the devil, here's how to go about it in Australia.
Want the latest EV news and reviews delivered to your inbox? Subscribe to our weekly newsletter!
We asked three conversion businesses to talk us through their work and, of course, how much all this is going to cost. All are part of the EV Alliance, a collaborative group of professional EV conversion and servicing experts.
It delivers free monthly webinars hosted by a panel of EV experts to discuss EV conversions, while for those wanting to build their own EVs, there are online training courses which cover key aspects such as safety training and how to plan your EV conversion.
1. Traction EV, Morayfield, QLD
James Pauly is founder of Queensland's Traction EV, a highly-regarded EV conversion business we featured in a full article last year. James was an intern at California's EV conversion specialist EV West, and brought his learnings home to build his own business at his workshop an hour north of Brisbane.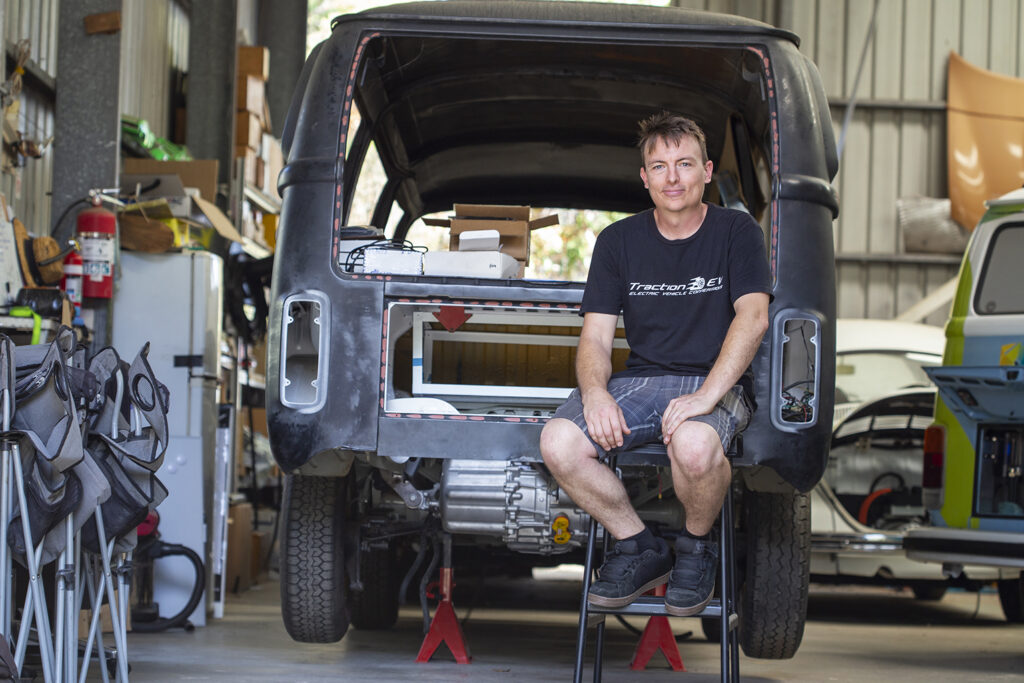 What conversions have you done so far?
A 1968 VW Beetle with an 88kW HyPer 9 electric motor and 28kWh Tesla battery pack for a 150km range. A 1987 Nissan R31 Skyline with dual NetGain Warp11 motors for 600kW and a 50kWh Tesla battery for 200km range. A Mazda MX-5, 1965 Ford Cortina Mk1, a 1964 Beetle…
What's currently being converted in your shop?
Land Rover Defender, VW Kombi.
What vehicles are best for EV conversion and why?
Classic lightweight vehicles. We do an off-the-shelf kit for air-cooled VWs, so I don't have to put any extra design hours in for those. Sedans are better as batteries go under the parcel shelf, while utes are good as there's spare space under the tray to hide batteries.
What vehicles aren't good for EV conversion?
Anything running CAN bus electronics (anything post-1990s, basically). They're just too complex software-wise to bother with. Classic Minis are a bit too small, while station wagons and panel vans are difficult due to the battery box needing to be in the back, eating into rear space.
Why should people do an electric conversion?
You're turning it into the ultimate daily driver. You can rack up the kilometres Monday to Friday and it's bulletproof reliable. You're not putting kilometres on an old engine. It's keeping classics running, keeping them on the road.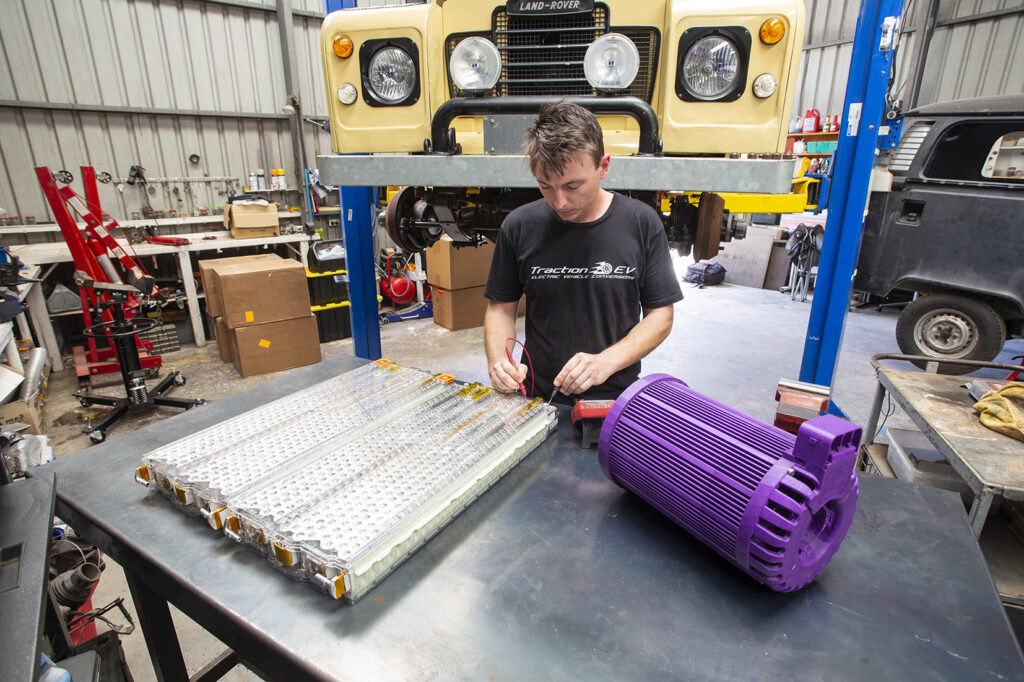 Which motors / batteries do you use?
Netgain HyPer motors from the US. The HyPer9 makes 90kW and 240Nm, is only nine inches in diameter and relatively light. Fit two and your kW and Nm figures double. Also the HPEVS AC-50 motor brings 52kW/163Nm, or you can fit two of these for 104kW/326Nm. I've used dual NetGain Warp11 (DC brushed) motors in my Skyline to offer 600kW. Batteries are whatever I can get, typically ones out of damaged Teslas.
What can people expect to pay for a full conversion?
Used battery prices have gone up a lot recently, so it'd be from about $40,000. Not counting any restoration; I don't do bodywork, just the conversion. That'd be for about 90kW of power, 160km range and add a few thousand more for a DC fast charger port. More power and more range obviously costs more.
Can people do the conversion themselves?
I supply motors and components to customers in Australia. You have to stay safe and compliant with Australian regulations: www.evalliance.net.au/ev-safety-online-training
2. Electric Car Cafe, Clayton South, VIC
Emma Sutcliffe is Director of EV conversion specialist Electric Car Cafe, Director of EV charging solutions company EVUp, and co-founder of EV Alliance, a global collective of EV conversion workshops and experts providing EV high voltage servicing advice and training. Electric Car Cafe started in 2015, the first project being an Audi A3 electric conversion.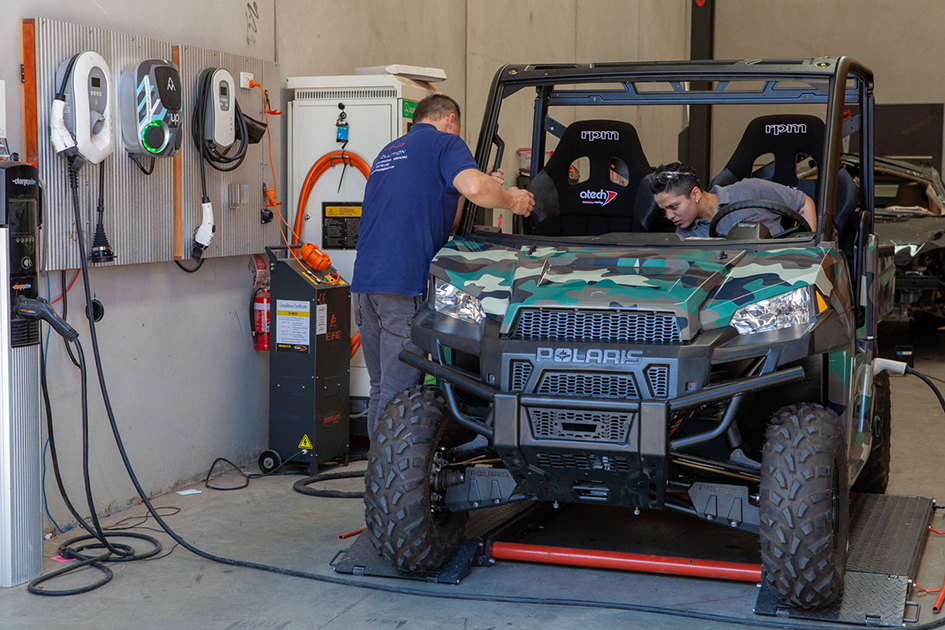 What conversions have you done so far?
We've just delivered an electrified all-terrain vehicle for the Defence Science & Technology Group as a skunkworks project for them to experiment with as they decarbonise their fleet. The aim was to enhance survivability of troops through reduced heat and noise signature. Previous conversions include an Audi A3, Land Rover Series 2 and Range Rover.
What's currently being converted in your shop?
A Toyota LandCruiser FJ45, DMC DeLorean, '92 Range Rover Vogue and an MGB. A Subaru Brumby joins us soon.
What vehicles are best for EV conversion and why?
Vehicles with plenty of space for batteries and heavier components – taking weight out is best. It's best if they're pre-1996 as no CAN bus integration is needed. Finally, the car needs to be cool – there's no point converting something unless it's going to turn heads!
What vehicles aren't good for EV conversion?
Anything with limited battery space, anything over 2000kgs or post 1996.
Why should people do an electric conversion?
On a small scale, to add another 50 years to a classic vehicle you love. On a larger scale, to save ICE vehicles from landfill.
Which motors / batteries do you use?
A mix of new and used. Depending on the client's range requirements, we'll use Hyper9 or LifePo, or tear down wrecked EVs. Important to note, tear downs are highly dangerous and should not be done by inexperienced people!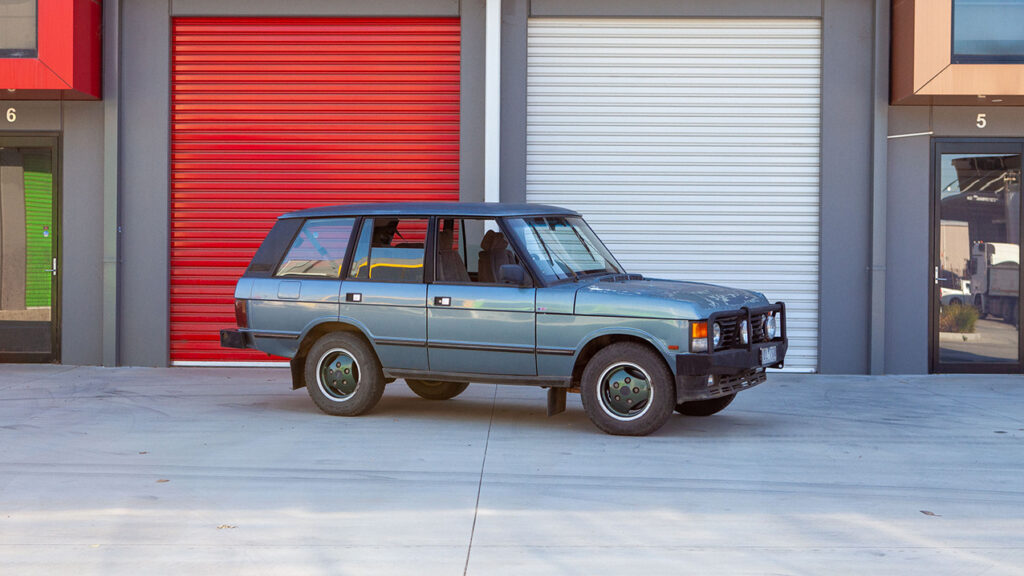 Engine aside, what else needs to change on the car?
Your comfort and convenience. You should make it something you want to drive every day. Proximity locking and heated seats are two good examples: adding these to older cars makes them more liveable.
Are the modifications reversible?
Yes, but you'll never want to go back to dinosaur juice!
What can people expect to pay for a full conversion?
It depends on the customer requirements, but expect to pay upwards of $70k for someone like us to do a complete turnkey conversion.
Can people do the conversion themselves?
We don't recommend it, but people will anyway, so the EV Alliance has written an EV HV Safety Course and a DIY course which can both be done online.

Any problems with registration or insurance?
We organise rego for our clients, while insurance through auto specialists isn't usually a problem.
3. EV-Torque, Jindabyne, NSW
Conrad Gibb is a stalwart of the industry, having been EV converting for around ten years. He said Covid plus increasing awareness and desire for EV conversions has generated huge interest in his EV-Torque business.
It offers a complete electric conversion service, engineering and development of drive units and battery systems, DIY conversion workshops and part supply.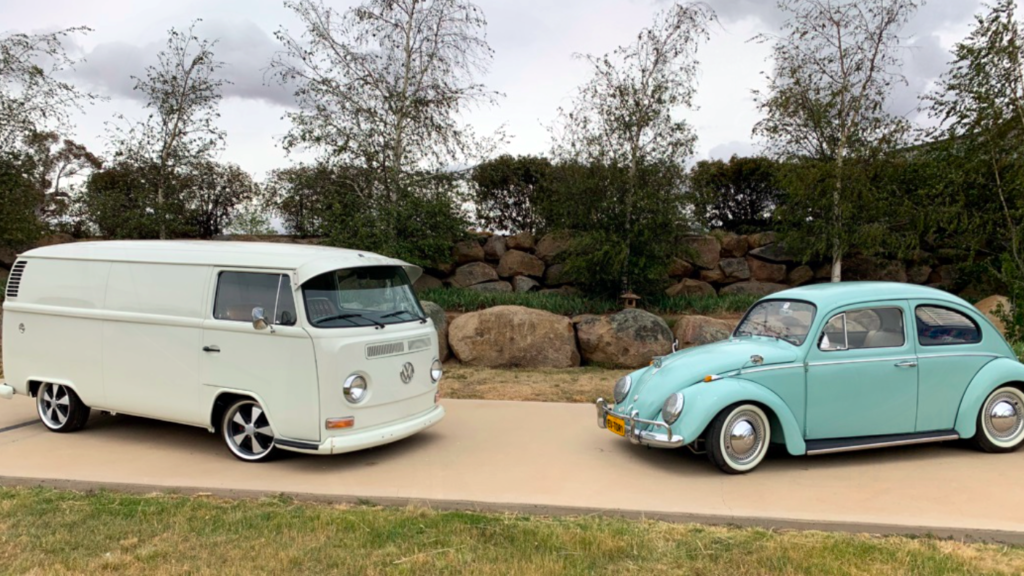 What conversions have you done so far?
A VW Kombi, VW Beetle, Toyota Hilux, Porsche 986, an early Land Rover, Range Rovers and many more. I'm involved in the DeLorean conversion happening in Melbourne (at Electric Car Cafe).
What vehicles are best for EV conversion?
Anything with reliability issues, such as Land Rovers, VWs or that DeLorean. The EV conversion is not a cheap experience, so you want to do something you have an attachment to, or something with a bit of character. Older VWs, Porsche 911, Porsche 912 and the like. We have bolt-on kits for those rear-engine cars.
Why should people convert to an EV?
Outstanding reliability with reduced service and maintenance costs. If you have solar you'll be significantly minimising your environmental impact. Plus, EVs are great fun to drive with fantastic acceleration. They only cost a few cents per kilometre to run.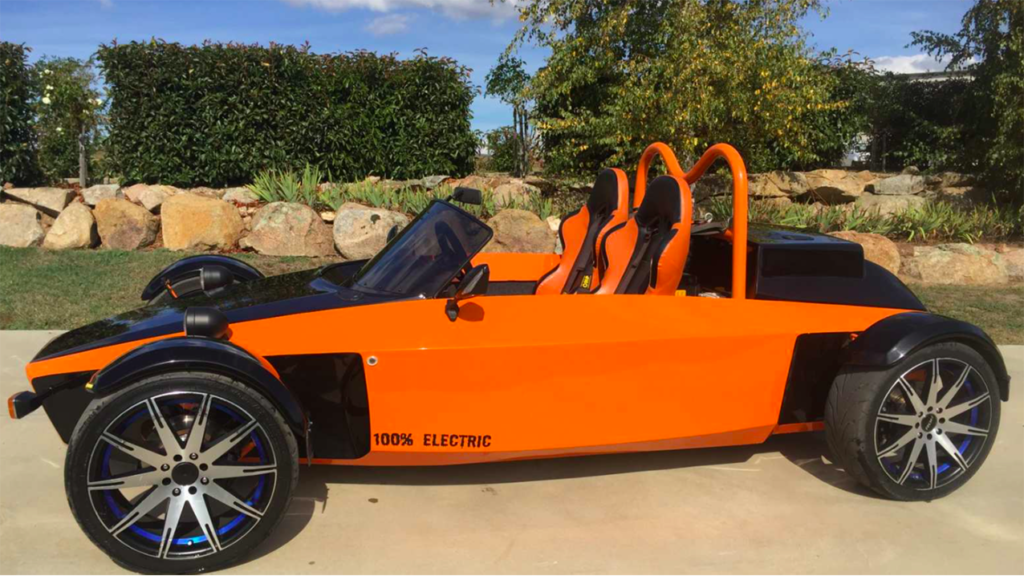 Which electric motors do you use?
Netgain from the US, Bosch, HPEVS or used OEM motors. We offer electric drive units from 50hp to 650hp.
Which batteries do you use?
The more we can upcycle the better. Chevy Volt and Nissan Leaf batteries are good, but we can also use new ones.
What is the expected cost of a full EV conversion?
It depends, but from about $48,000. Used battery prices have gone up a lot – everyone seems to be trying to buy wrecked EVs at the auctions.