2024 Peugeot e-2008 review: Is this affordable European electric SUV a true rival to the Tesla Model Y and BYD Atto 3?
What if I told you that you could secure a European electric SUV for less than $60k, with any and every feature you might want or need, and with essentially no wait time for delivery?
You can, in the genuinely sexy shape of the Peugeot e-2008 — the all-electric version of the brand's impressive ICE-powered small SUV, having done away with the petrol motor in favour of a small-ish battery and a front-mounted electric motor.
So, how does it stack up against its very solid competition?
READ MORE: The electric year ahead: Every EV coming to Australia in 2023
READ MORE: The five best family EVs under $100K: From Tesla and Hyundai to Kia and Mercedes-Benz
READ MORE: Can the Model Y outsell the HiLux and Ranger? 
What does the Peugeot e-2008 cost and what features do you get?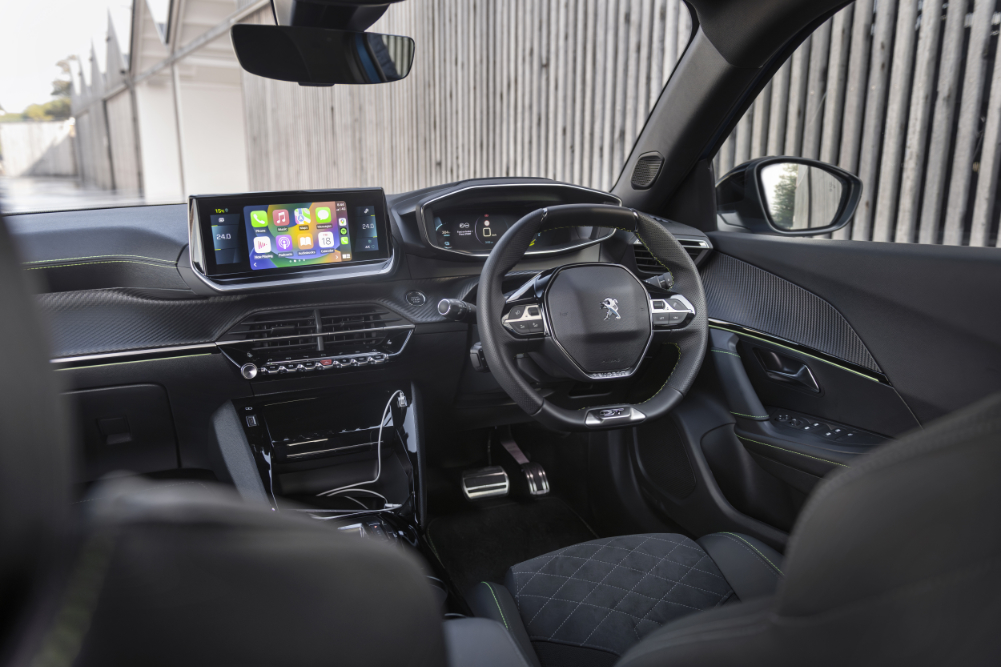 How solid the price proposition is really comes down to where you position the Peugeot e-2008.
At $59,990 in a single well-equipped trim level — the e-2008 GT — it's cheap compared to fellow Euro models like the BMW iX1 xDrive30 ($87k) or the Mercedes-Benz EQA ($78k).
But it looks like less of a bargain when you pit it against the Tesla Model 3 RWD ($61,900), MG ZS EV Long Range ($55,990), or BYD Atto 3 ($48,011).
Still, you'll be able to leave the options list well enough alone, with Peugeot fitting its little EV with just about everything you might want.
Outside, that means 18-inch alloy wheels, LED lighting, keyless entry and start, auto headlights and a sunroof.
Inside, there's Peugeot's i-Cockpit, with a 10-inch central screen (with Apple CarPlay and Android Auto), a head-up display, a digital dash with 3D effect, Alcantara-and-leather-look seats, dual-zone climate control and USB ports. 
On the safety front, expect adaptive cruise control with stop and go function, autonomous emergency braking with pedestrian detection, blind spot detection, lane departure warning with unmarked edge protection and a driver fatigue monitor.
What is powering the Peugeot e-2008?
There's no sugar-coating this part — the e-2008 can't really compete on range specs with some of its rivals. The brand positions its e-2008 as a city-friendly SUV, which it certainly is. But it's also no long-distance tourer.
The 50kWh lithium-ion battery will deliver a WLTP driving range of 328km. More than enough for almost everyone's weekly commute — and certainly plenty for weekend adventures, too — but it is less than its key price competitors.
The BYD Atto 3 Extended is $51,033, and arrives with a 60.4kWh that will deliver a 480km driving range, while the Tesla Model 3 RWD, which is slightly more expensive, claims 513kms.
The Peugeot e-2008 is powered by a single front-mounted electric motor which produces 100kW and 260Nm, which aren't Earth-shattering numbers, but also deliver enough to keep the little SUV moving, even if flat-footed acceleration isn't nearly as aggressive as it is in some electric vehicles.
What is charging like for the Peugeot e-2008?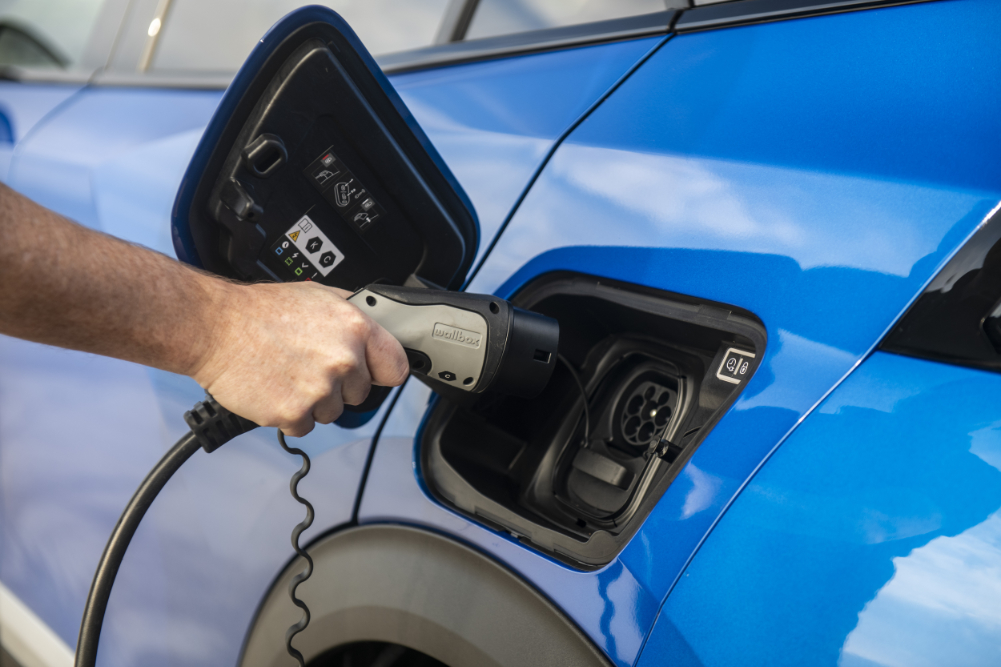 The e-2008 is set up for 100kW DC fast charging, and Peugeot reckons you'll go from zero to 80 per cent charged in about 30 minutes should you plug into one.
At home, it's more like an overnight charge, with Peugeot quoting 7hrs30mins to go from empty to full using a 7.4kW Wallbox. If you have three-phase power at home, so 11kW, you can reduce that number to around five hours.
How does the Peugeot e-2008 drive?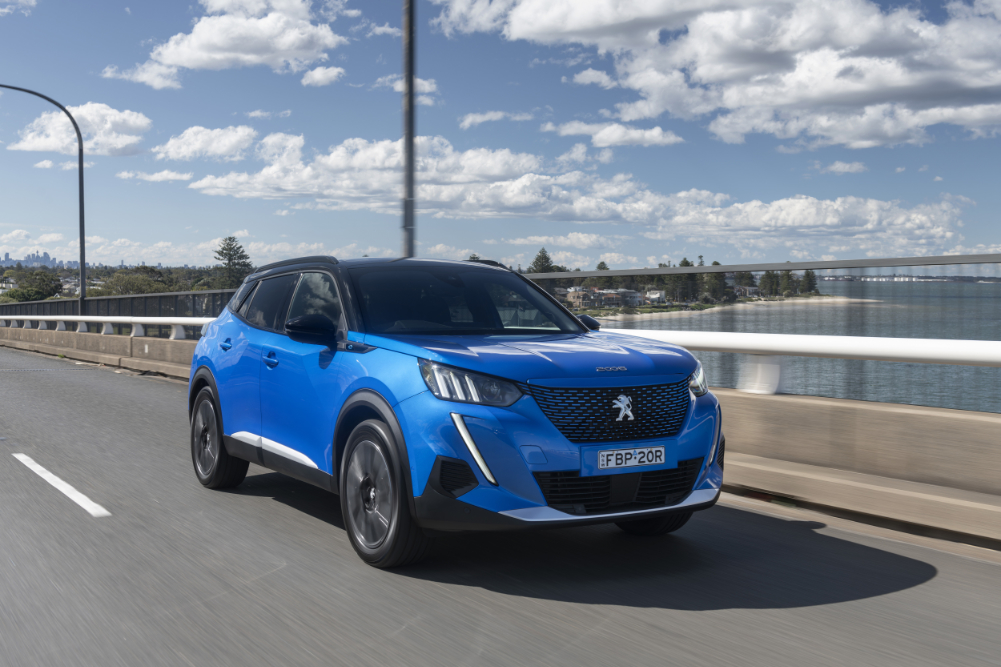 One of the most surprising things about the Peugeot e-2008 – at least for anyone who has driven lots of EVs – also soon becomes one of the best parts of the French SUV's driving experience.
While some electric vehicles (we're looking at you, Tesla) can feel dialled up to 11, with super-sharp steering and bonkers acceleration, the Peugeot feels far softer, calmer and more marshmallow-like in the way it goes about its business.
Plant you foot from a standstill and the little Peugeot doesn't so much leap off the line as it does slowly meander forward, and on-the-move acceleration is equally subdued.
But it's not necessarily a bad thing. In fact, it all kinds of adds to the Peugeot's relaxed, calming ambience, helped further by good cabin insulation that keeps road noise to a minimum.
For mine, the ride has some hard edges that need smoothing. Most of the time, e-2008's suspension is supple enough, but it can be caught out by dodgy road surfaces (or things like expansion joints) which can clang in the cabin.
There's around 324kg in extra EV weight on board here, when compared to the ICE 2008, but the electric SUY hides the extra bulk pretty well, and while not as light on its feet as a petrol powered SUV, I suspect the battery heft adds to the sense of sure-footedness on offer here.
Bite into a corner, for example, and the Peugeot will happily hold its line unless really pushed, with no complaints from the tyres, an no tall ship-swaying in the cabin.
What is the ownership of the Peugeot e-2008 like?
There is a five-year, unlimited-kilometre warranty on offer here, while the battery is covered for the usual eight years or 160,000kms.
You'll need to visit the service centre every 12 months or 24,00kms, with annual service costs coming in at an average $300-or-so for the first five years. Choose to prepay your servicing, and you're looking at $1000 total for the first five years.
The Peugeot e-2008 verdict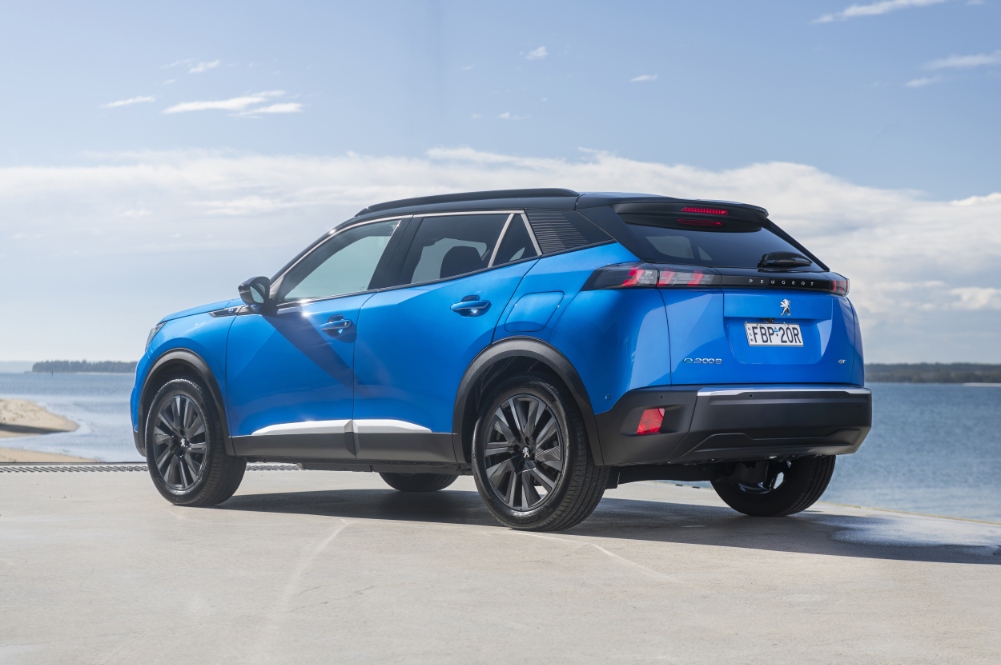 Is it the most exhilarating EV on the market? No. But the Peugeot e-2008 is calm and comfortable, and it shrinks the gap between ICE and electric for anyone nervous about making the switch.
Peugeot e-2008 score:
3/5
Peugeot e-2008 specifications
Battery and motor
50kWh Lithium-ion battery 
Max power: 100kW
Max torque: 260Nm 
Single speed automatic
WLTP range: 328km
Charging
100kW DC charging (0-80% approx 30mins)
7.4kW Wallbox (0-100% approx 7hrs30mins
DIMENSIONS 
Length: 4300mm
Width: 1987mm
Height: 1550mm
Wheelbase: 2605mm
Boot space: 434L to 1467L