2024 MG MG4: Essence 77 Long Range review – Chinese brand takes aim at the Tesla Model 3 with new premium play
2024 MG MG4 Essence 77 review: All the focus when it comes to the new 2024 MG MG4 electric vehicle has been on the entry-level 51 Excite.
And why not? It was the first new mass-market electric passenger car to be priced below $40,000 in Australia. You can read our first impressions of the 51 here.
But now for something significantly different.
For our second chance to drive the MG4 compact hatchback, and the first time in true Aussie-spec, we've headed to the opposite end of the range, to the MG4 Essence 77 Long Range.
It's the price and performance flagship of the range, which means it will be judged more critically for how it looks, feels and drives than the 51.
Is the 77 a bonafide premium small car? Let's find out.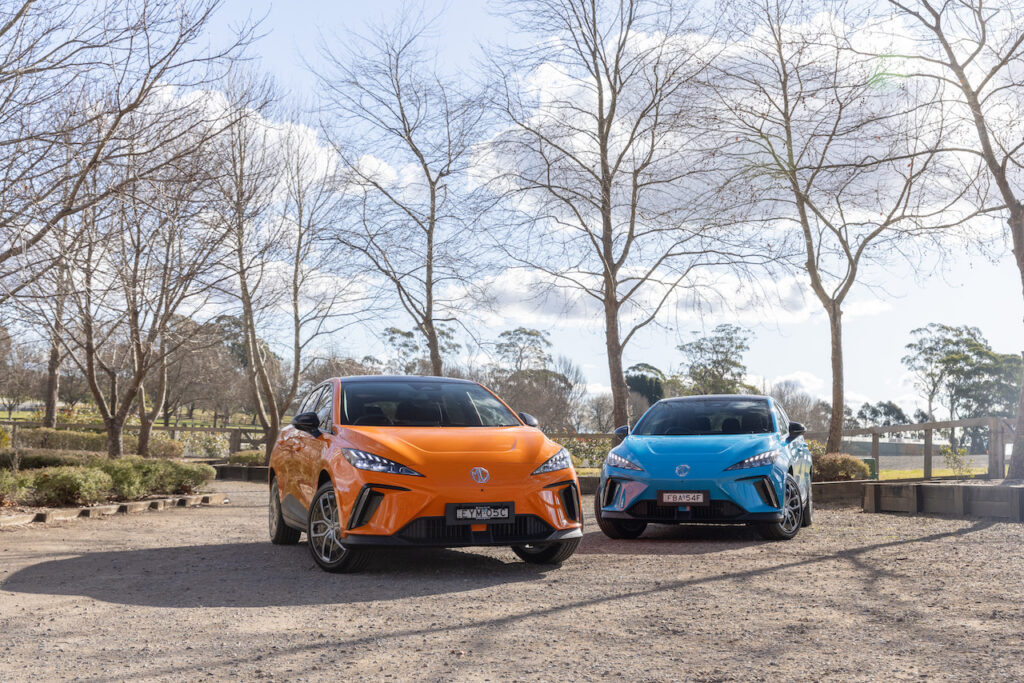 READ MORE: Electric price war! GWM Ora, MG4 and BYD Dolphin in battle to be cheapest EV
READ MORE: MG4 2023 review: Excite 51 – battle of the budget electric vehicles heats up
What does the MG4 Essence 77 cost?
The MG4 Essence 77 will set you back $55,990 before on-road costs, subsidies and rebates.
Until the MG4 XPower 320kW hot hatch shows up in December priced close to $70,000, there is no more powerful or expensive MG4 – or MG! – on offer in Australia.
As we detail here, there are four MG4 models for sale. The $38,990 MG4 Excite 51, the $44,990 MG4 Excite 64, the $47,990 Essence 64 and the Essence 77, to which MG sometimes adds the Long Range tag and sometimes doesn't.
Excite and Essence are trim levels, while 51, 64 and 77 are battery pack sizes in kWh.
So what does the pricing of the MG4 Essence 77 pitch it up against? Most obviously, it's within reach of the $57,400 Tesla Model 3 Rear-Wheel Drive.
Other potential opposition if you're in the market for a sporty premium small electric car include the $59,990 Cupra Born, the $51,990 GWM Ora GT and the forthcoming BYD Dolphin Sport, which will be $49,990 plus ORCs.
Get into ICE small premium and the choice is wide – but you are them emitting CO2.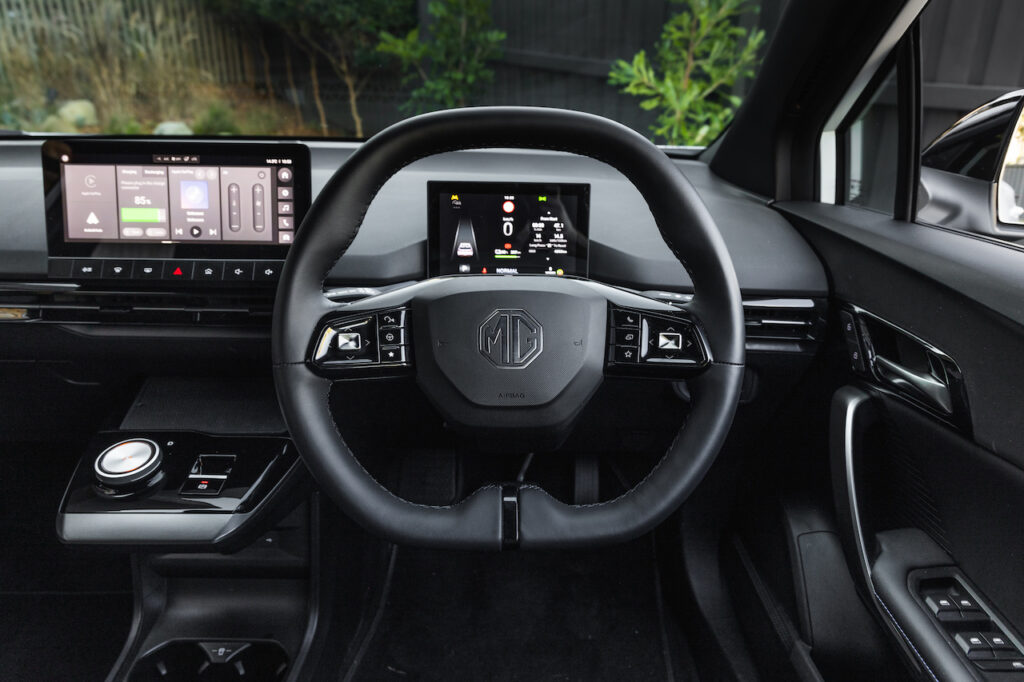 What do you get in the MG4 Essence 77?
Compared to the MG4 Essence 64, the 77's comfort and safety features are identical. The features you are paying extra for are all powertrain based. We'll detail all that below.
So key Essence features that enhances the sharp and attractive exterior over and above Excite MG4 include 18-inch alloy wheels, a 'twin-aero' rear spoiler, a two-tone roof and an active intake grille shutter to increase economic efficiency.
The MG4 range comes with a zesty exterior paint palette that matches its bright design. But you'll pay $700 extra for any choice other than white.
Inside the comfort upgrades include front seat heating, driver's seat six-way power adjustment, a steering wheel with heating and real leather trim, artificial polyurethane leather and fabric seat trim, rear privacy glass and a two-level boot floor.
Comfort features shared with the Excite include single-zone climate control, keyless entry and start/stop (yep get in and it's running) and a 60/40 split-fold rear seat.
Technology upgrades include six-speaker audio (up from four), satellite-navigation, iSmart web-based services including weather forecasts and a wireless charging pad from which your phone can go flying when accelerating.
Technology shared with the Excite includes a 10.25-inch infotainment touchscreen, a 7-inch digital instrument cluster, cabled Apple CarPlay and Android connection, DAB digital and FM radio bands but no AM.
MG's iSmart app offers remote unlock/lock, a car finder and cabin preheating. The MG4 can also be locked and unlocked via bluetooth using a smartphone, but the key still needs to be present to drive off.
A 3.3kW Vehicle to Load (V2L) function that can charge electronics such as laptops on the go, while there are USB-A and a USB-C points up-front and a solitary USB-C in the rear.
All MG4s come with a five star ANCAP (2022) rating and include six airbags, autonomous emergency braking, lane keep assist and lane departure warning, adaptive cruise control with a low-speed follow function, driver attention monitoring and LED headlights with intelligent high beam control. There are only rear parking sensors.
Essence spec adds blind spot detection, rear cross traffic alert, emergency lane keep assist, lane change assist and a door opening warning. It also upgrades from a reversing camera to a 360 degree camera.
There is no evidence of a low-speed siren to warn pedestrians they are about to be silently run over.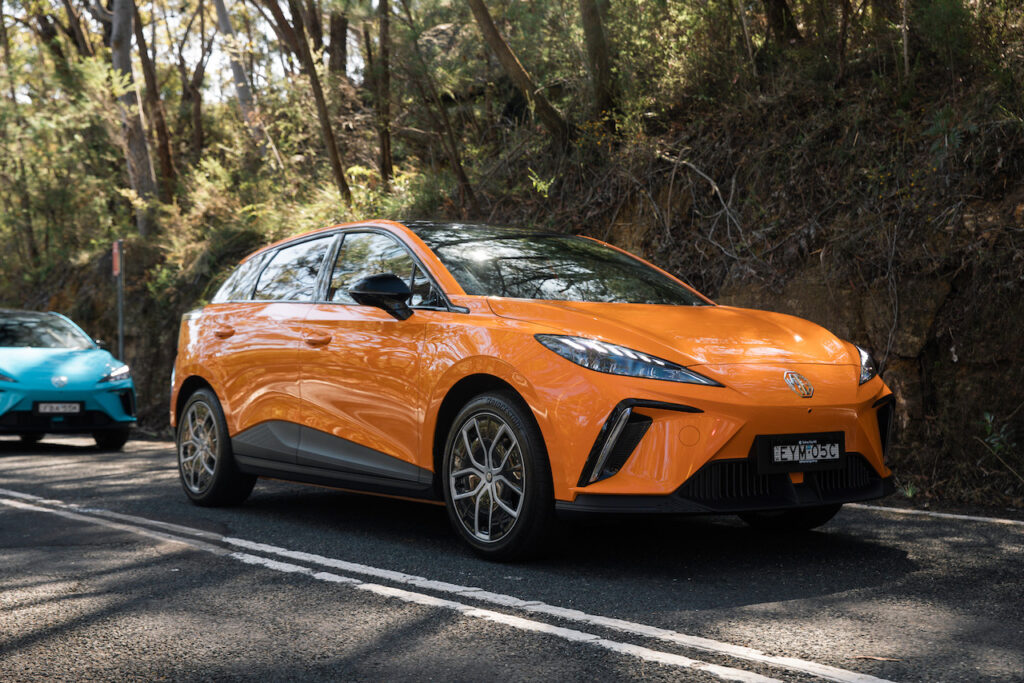 What is powering the MG4 Essence 77?
All four MG4 models are powered by a single three-phase permanent magnetic synchronous e-motor that drives the rear wheels via a single speed reduction gear.
The MG4 Essence 77 is alone in getting a 180kW/350Nm version of the e-motor that delivers a claimed 6.5 seconds 0-100km/h time and a 180km/h top speed.
The 64 claims 7.2 seconds and the 51 claims 7.7 seconds. Both have a top speed of 160km/h.
How big is the MG4 Essence 77's battery, what is the driving range, and how long will it take to charge?
As its name suggests, the MG4 Essence 77 has a 77kWh (74.4 useable) Lithium Nickel Manganese Cobalt (NMC) battery pack made by CATL. The 64 also uses this chemistry, while the 51 employs cheaper and less efficient LFP (Lithium, Ferro-Phosphate).
For more on battery chemistries click here.
The 77 delivers a claimed 530km (WLTP) range that's 95km longer than the 64 and 180km longer than the 51.
It is claimed to consume electricity at an average 14kWh/100km. We were seeing numbers more in the 19-21kWh/100km range during our test drive on country roads.
With a maximum DC fast-charging rate of 144kW, the MG4 Essence 77 can recharge its battery pack from 10-80 percent in a claimed 38 minutes.
The 77 is also the only MG4 with an 11kW onboard charging unit, which means a full recharge in seven hours. A 220V-240V trickle charge will take around 38 hours.
The MG4 includes multiple regenerative braking steps including adaptive, but it must be accessed through the touchscreen – why doesn't everyone use flappy paddles like Hyundai?! One pedal braking is part of the package and pretty effective.
Charging times for the MG4 can be scheduled remotely via the iSmart app or in-cabin via the touchscreen.
How does the MG4 Essence 77 drive?
The MG4 Essence 77 measures up about Toyota Corolla-sized at 4287mm long, 1836mm wide, 1516m high and it has a 2715mm wheelbase. But it weighs in at a lardy 1748kg, about 300kg more than an equivalent ICE small hatch .
So good thing it's got plenty of power and torque. The Essence 77 really does zot along. In its highest horsepower Sport mode it is energetic – if not mind-blowing – from tip-in throttle in that typical EV way.
It winds back a bit as you go through Normal and Eco drive modes, but it still feels strong and capable. The modes also impact steering, pedal force and energy recovery. A custom mode allows you to mix and match to suit yourself.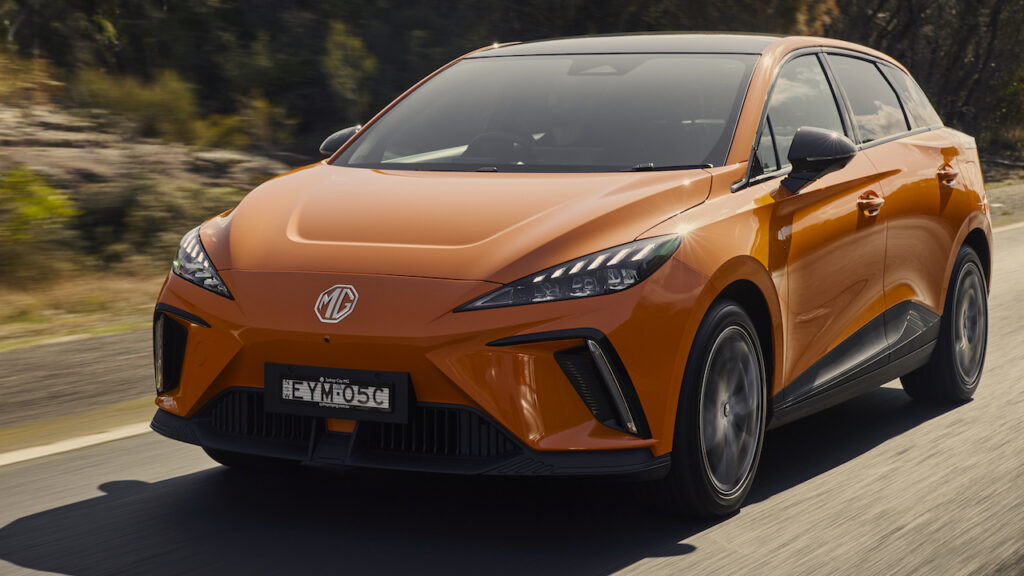 Having such a quiet powertrain means wind noise around the driver's external mirror, tyre rumble on coarse bitumen and some minor interior vibrations become more apparent.
Rolling on a brand new platform suspended by MacPherson struts and a five-link independent rear-suspension, with steering via electric assist and disc brakes all-round, the 77 displays eager handling traits.
Tuned with the assistance of Spanish chassis specialist IDIADA, the MG4 benefits from a 50:50 weight distribution, low centre of gravity thanks to its big battery pack and rear wheel drive.
A set of corners is despatched with confidence, be it in the suburbs or navigating a country highway. It grips with surety and steers lightly and accurately, if not with the feel expected of something with sports pretensions.
As is often the case with EVs, the significant kerb weight leads to a firmer suspension tune that takes the edge off ride comfort. It's not a shocker, but you should drive this car on a rough road with sharp-edged lumps to decide if you could live with it.
Brake pedal feel would benefit from retuning. It hardens up very early in the stroke and doesn't offer a lot of confidence.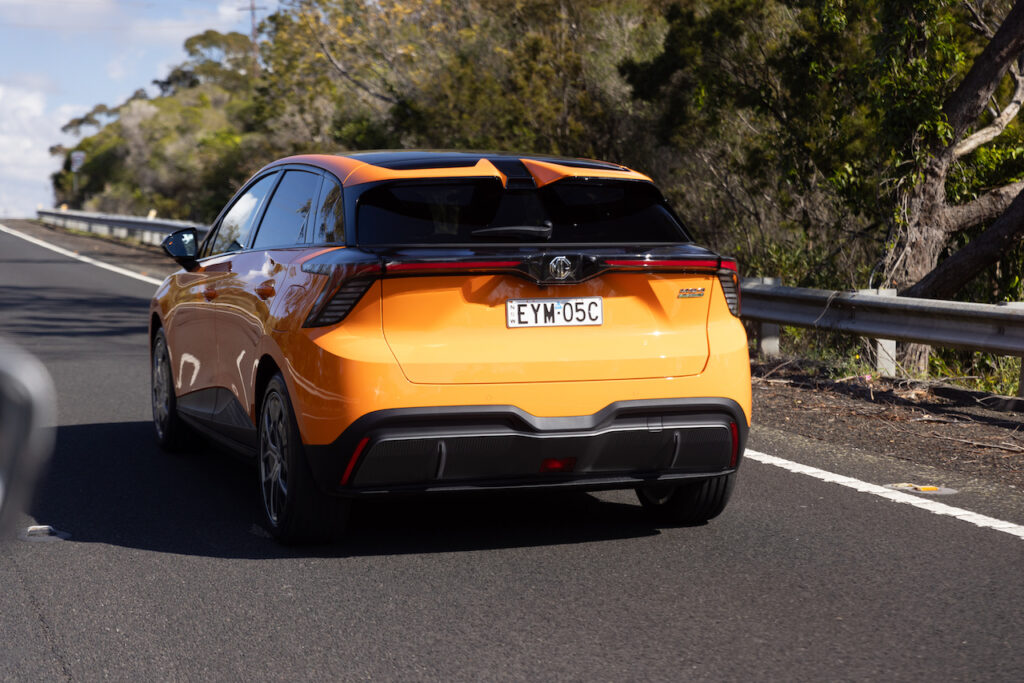 The most annoying thing about the driving is a common complaint about Chinese cars: the mediocre tuning of their drive assistance systems such as lane assist and the annoyingly repetitious process of having to turn them off each time you turn the car on.
The adaptive cruise control has a cornering function that is egregiously intrusive. It slows the car so much the driver often has to hit the throttle to speed up. Or switch it off. Talk about counter-productive!
The interior presentation is modern but basic. There are hard plastics interspersed with the softer stuff and default piano black.
The instrument cluster is simple and more legible than the BYD Atto 3's miniscule effort. Toggles on each steering wheel spoke flips though different functions including trip computer and audio.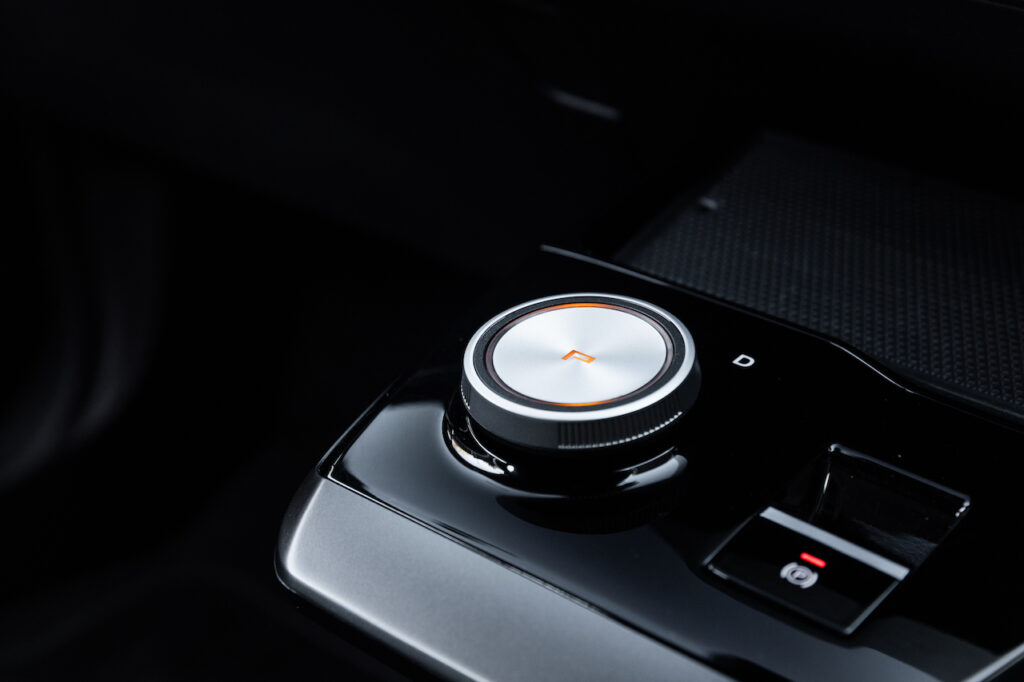 The infotainment touchscreen is relatively simple and navigable but still prone to some slow responses. Without proper buttons, the air-con controls are frustratingly inaccessible on the touchscreen.
The front seats are quite generous and offer a plump sense of padding. The two-spoke steering wheel adjust for reach and rake. The drive selector dial is mounted on a plinth above a substantial storage area between the seats.
The passenger-side footwell is quite lumpy so it's hard to find a flat position for your left foot. Vision out the rear window is limited.
Space for one 180cm adult behind another is tight for kneeroom in the rear. There are no rear air-con vents or a fold-down armrest. Side vision out is quite good because the seating position is raised and windows quite large. There is plenty of storage with three pockets on each seat.
The boot, accessed by a manual tailgate, is not that generous at 350 litres. It does expand to 1165 litres with the rear seats 60:40 split-folded. Sadly, there's no spare tyre under the boot floor, just an inflator kit. There is no front trunk or boot, or frunk/froot.
What is ownership of the MG4 Essence 77 like?
The MG4 and its battery pack come with a seven year/unlimited km warranty. Service intervals are a lengthy 40,000km/24 months and are capped at $2660 over 200,000km and 10 years.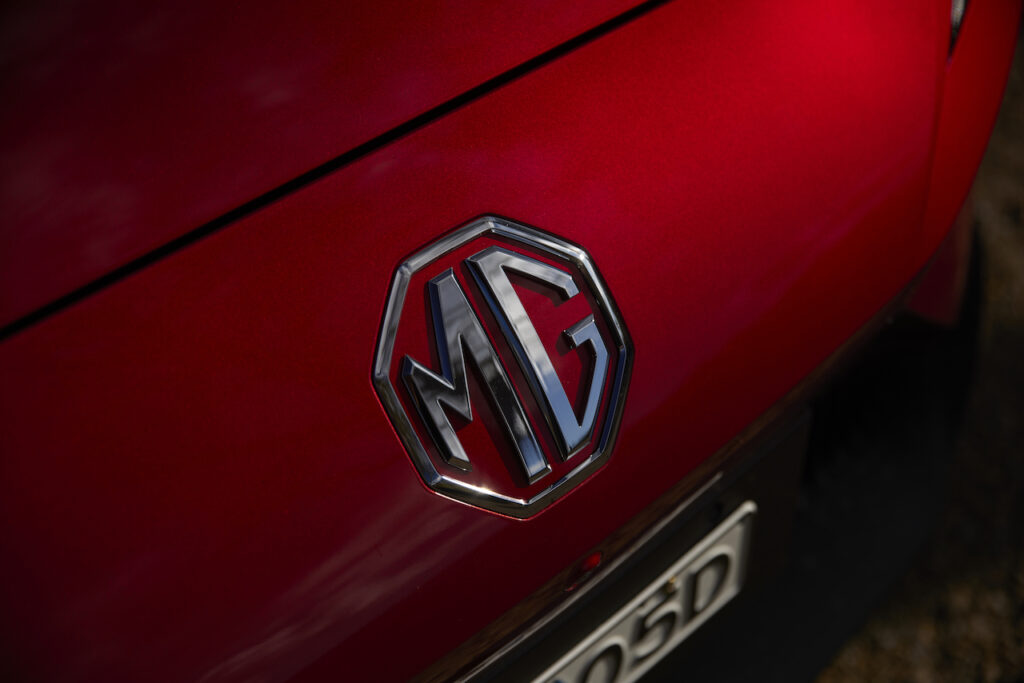 The MG4 Essence 77 review: verdict
4/5
If the MG4 Essence 77 represents our electric future then bring it on!
Yes, we have some equipment issues and some driving concerns, but this is undoubtedly an impressive effort that's closer to the target than any affordable EV yet launched in Australia.
But the price for this specific model is still a sticking point. The MG4 flagship doesn't feel or present as a premium. It's more a mainstream sports sedan (yeah we know it's a hatch), in the same way the Holden Commodore SV6 was a tuned and more entertaining Omega.
That suggests the price, equipment and performance sweet spot in the MG4 range might be at the more affordable 64 level.
But hey, MG has positioned this car as a Tesla Model 3 rival and it's not a ridiculous comparison. That says a lot about how good the MG4 is.
MG4 Essence 77 Long Range specifications
Price: From $55,990 plus on-road costs
Basics: EV, 5 seats, 5 doors, compact hatchback, RWD
EV range: 530km (WLTP)
Battery capacity: 77kWh (74.1kWh usable)
Battery warranty: 7 years/Unlimited km
Energy consumption: 14.0kWh/100km (claim)
E-motors: One three-phase permanent magnetic synchronous mounted on rear axle, maximum output 180kW/350Nm
AC charging: 11kW, Type 2 plug
DC charging: 144kW, CCS
0-100km/h: 6.5 seconds (claimed)