EV incentives up to $5325 as part of $490m NSW package
The NSW government has announced the most generous electric car incentives in the country as part of a $490 million investment to kickstart EV sales.
The government will match Victoria's $3000 EV subsidies on vehicles priced below $68,750, although the subsidies will be not be available until September 1, 2021.
READ MORE: Affordable EVs you can buy right now: From Nissan and Hyundai to Tesla and BMW
READ MORE: NSW promises biggest EV charging network in Australia
READ MORE: EVs to pay 2.5c per km in NSW – but not until 2027
READ MORE: Why your Next Uber will be electric
READ MORE: Plans for electrification of NSW government fleet to make used EVs more affordable
The subsidies are aimed at private buyers – businesses and fleets will benefit from a separate $105 million package to be announced later – and only apply to the first 25,000 sales, representing an investment of $75 million.
Want the latest electric car news and reviews delivered to your inbox? Subscribe to our weekly newsletter!
But the NSW government will add to that by waiving stamp duty for electric cars priced under $78,000. That unleashes further savings of up to $3000.
"Our strategy also commences long-term major tax reform. Today we begin the process of permanently phasing out stamp duty on electric vehicles and a deferred transition to a fair and sustainable per-kilometre road user charge for electric vehicles," said NSW Treasurer Dominic Perrottet.
"Electric vehicles are not only cheaper to run and quieter on our roads, but they also reduce both carbon emissions and air pollution which results in dramatically improved health outcomes for our communities.
"As the world's right-hand drive market moves to manufacturing electric vehicles, we have to make sure we have the policies in place to give industry the green light to increase model availability and cut entry price points."
However, because EVs priced between $68,750 and $78,000 will only benefit from the stamp duty savings it means the biggest savings are reserved for cars priced below $68,000, amounting to about $5325 in total.
The top-selling Tesla Model 3 Standard Range Plus sells from $67,798 drive-away in NSW. With the subsidy and the tax break it should lower that price to $62,473. However, if you want any colour other than white, at today's prices you may miss out on the $3000 subsidy because it would push the price beyond the $68,750 threshold for the $3000 subsidy. As it has done in other parts of the world, Tesla may address that with some special offers.
A Nissan Leaf would drop from $53,190 drive-away costs to about $48,700, with the more expensive Leaf e+ benefitting from slightly bigger savings.
On the most affordable electric car currently available in Australia – the MG ZS EV – the savings will amount to about $4300 – or almost 10 percent off the $43,990 drive-away price.
The EV incentive and tax break is significant for two reasons. Not only are they the most generous EV incentives announced to date, but having them apply to the state that buys more vehicles than any other – NSW accounts for about one in three new-car sales – has the potential to significantly impact overall sales.
Car makers are naturally supportive of the announcement, with Volkswagen Australia managing director Michael Bartsch describing the broad-ranging EV strategy was "logical and progressive" and that it will "make NSW the 'easiest place to buy and drive an EV in Australia'".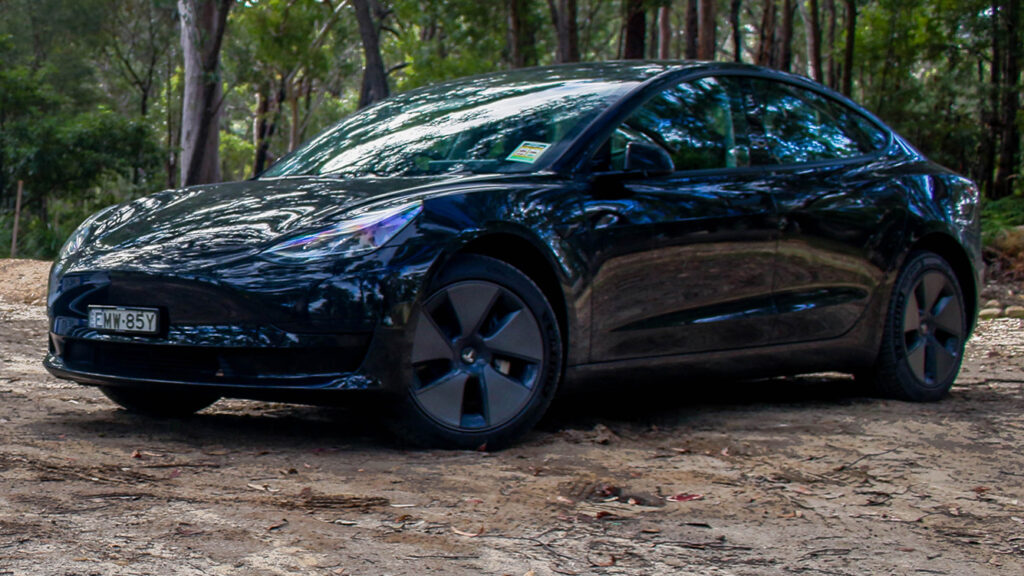 "The Berejiklian Government has shown its federal colleagues and its counterpart in Victoria the way to bring about mass ownership of affordable electric vehicles," said Bartsch taking a swipe at the recent Victorian announcement that didn't have anything like the amount of thought put into it.
"In terms of his targets for private ownership and fleet take up of EVs, there is no faulting [Minister for Energy and Environment] Mr [Matthew] Kean's ambition."
Nissan Australia managing director Stephen Lester said the NSW announcement provided "the right balance between EV adoption today, and surety about the future regulatory environment".
"It is extremely encouraging to see the NSW Government's strong leadership in the EV space," said Lester.
"These decisive actions are good for consumers, good for the market and ultimately good for the State's own legislated net zero targets. These types of polices not only accelerate the EV transition right now, but also put Australia in a stronger place for priority adoption of new vehicle technologies, sooner."
The NSW government is also investing heavily in EV charging infrastructure with what is shaping up to be the most expansive EV charging network in Australia, covering not only metro areas but also every corner of the state.
The NSW government has also flagged it will introduce a road user charge for EVs and PHEVs by 2027; it plans to charge 2.5 cents per kilometre for EVs and 2.0c/km for PHEVs.
Plus, the NSW government will allow EV drivers to use T2 and T3 transit lanes over the next few years.
Currently the only vehicles allowed to used transit lanes are buses, taxis, bikes and some hire cars.
However, there's one minor sting in the tail. The proposed September 1 start date promises to stall EV sales in NSW between now and then.
While dealers will no doubt be keen to sign orders in readiness for the imminent EV savings, in the short term car makers will likely divert stock to other states and territories – before readying for a significant uptick in EV interest.