Cupra Born review: Spanish hatch adds to the EV fun factor for $60K
The Born is the first EV from fledgling car maker Cupra. The Spanish manufacturer that is part of the Volkswagen Group has big plans for zero emissions vehicles and it kicks off with this five-door hatch.
While the Cupra EV utilises the electrical architecture that underpins various Volkswagen EVs – including the Volkswagen ID.3, ID.4 and ID.5 – the Born has a personality of its own thanks to its design and engineering.
READ MORE: Cupra Born Aussie pricing confirmed
READ MORE: Cupra Born to be priced about $60K; Tavascan, UrbanRevel confirmed for Australia
READ MORE: Cupra showcases its electrified future with three soon-to-arrive models
It's powered by a single electric motor driving the rear wheels and has a claimed EV range of up to 511km.
Value
The Cupra Born is priced from $59,990 before on-road costs. That makes it eligible for rebates in most parts of the country, while in NSW buyers would not pay stamp duty.
For that you get a five-seat hatch with 19-inch wheels, wireless phone charging, smart key entry, interior ambient lighting, 360-degree camera, tyre pressure monitors (there's no spare tyre) and a compact 5.3-inch digital instrument cluster.
There's also a 12-inch central infotainment screen incorporating Apple CarPlay and Android Auto.
Pay another $2600 for the Performance pack and the wheels step up to 20 inches in diameter but lose their copper finish that matches the copper highlights elsewhere. There are also adjustable dampers.
Buyers can also option an Interior pack for $2900. It brings electrically adjustable front seats with massagers and heating as well as Dinamica trim material and a nine-speaker Beats sound system.
The Performance and Interior packs both reduce the seating capacity to four, with the centre rear seat instead replaced with a storage binnacle.
There's no home charger, with Cupra instead providing a Type 2 to Type 2 charger that allows AC charging at up to 11kW at public chargers. Cupra then encourages owners to fit a home wallbox charger, which can also utilise that supplied cable.
Those chasing a portable charger or plug into a regular powerpoint will need to shell out $750 for a Cupra one or look at aftermarket options.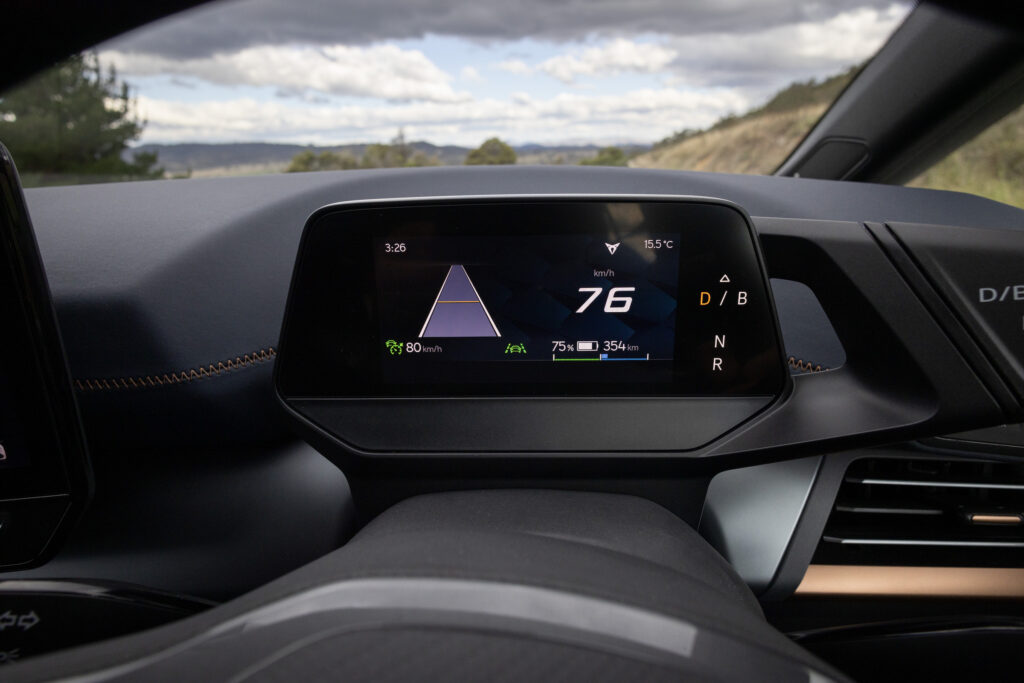 The Born is covered by a five-year unlimited kilometre warranty. The high voltage battery gets a separate eight-year, 160,000km warranty that protects against "excessive loss of capacity".
Inside
It may be a compact vehicle from the outside – it's similar in size to a Toyota Corolla – but the Cupra Born is refreshingly spacious inside.
That's because it sits on an architecture designed from the outset as an electric vehicle, allowing the optimal placement of components including batteries and the rear-mounted motor.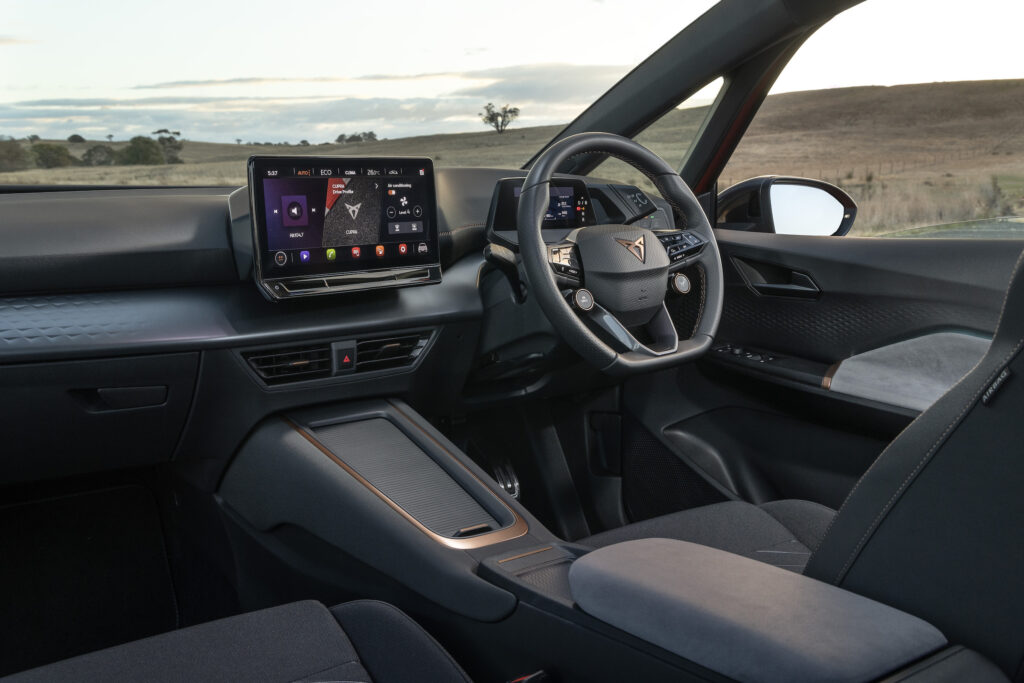 The driver has ample adjustability to the seating position and there's great headroom. The front seats hug and support nicely and the built-in headrests add to the sporty theme.
Headroom is less forthcoming in the back, but it'll suffice for most – and there's respectable knee room, although no rear air vents. Three across the rear would be tight; if you've optioned the Performance and/or Interior packs then there are only two seats in the rear.
The boot isn't overly long but is usefully deep and has a 60/40 split-fold.
The cabin is a mix of quality finishes and materials. From the modern seats with recycled plastics and tactile finishes to the padded centre console and furry top on the central sliding binnacle lid. The carbon fibre-inspired steering wheel boss and copper highlights liberally applied throughout top off what is a classy cabin.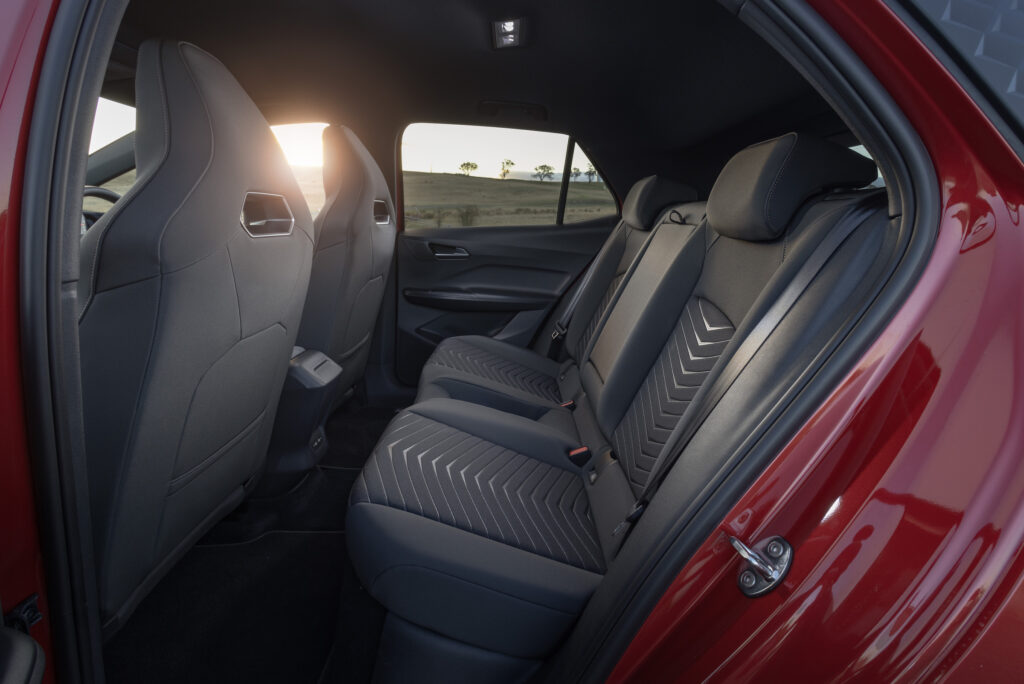 There's a small digital instrument cluster for the main driving functions, while the main 12-inch screen looks after infotainment in the centre of the dash.
The screen can be frustrating to operate with some basic functions; the volume control uses a slider dial, for example, and accessing the ventilation controls beyond the temperature adjustment requires additional screen presses. Plus some of the menus are not particularly user friendly.
But it's crisp and clear.
The sporty steering wheel feels great, although it's easy to graze the outer slider buttons with your fingers or palms, something that leads to audible alerts and the infotainment screen being one-third consumed by the volume settings. It's surprisingly easy to do…
Other than a narrow glovebox, storage is good, from twin cupholders and a binnacle under the central slider to a deep centre binnacle that also contains a wireless charging pad and two USB-C ports. There are another two USB-C ports in the back seats.
Performance and efficiency
The Cupra Born gets a single electric motor powering the rear wheels. It makes 170kW and 310Nm, which is similar to some hot hatches.
However, while there's that fantastic near-instantaneous response of an e-motor as well as an engaging surge that continues as speed builds, the Born is also hindered by weight. The base model is a portly 1927kg while the four-seat version is 1960kg.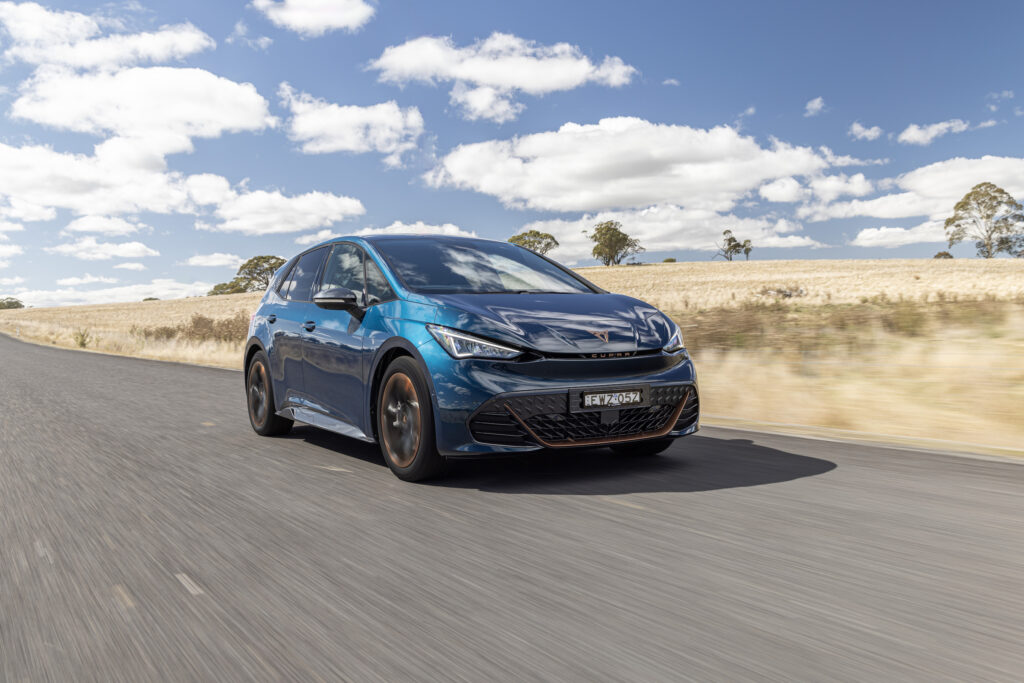 It's still brisk and engaging, able to get to 100km/h in 7.0 seconds.
Plus it's relatively efficient.
Claimed consumption is 17.0kWh per 100km or 18.2kWh/100km if you've got the 20-inch wheels.
The Performance model is no quicker and uses more electricity, purely down to its stickier tyres. During our brief drives we found it used something like 15-20 percent more electricity than the regular model on its 19-inch tyres.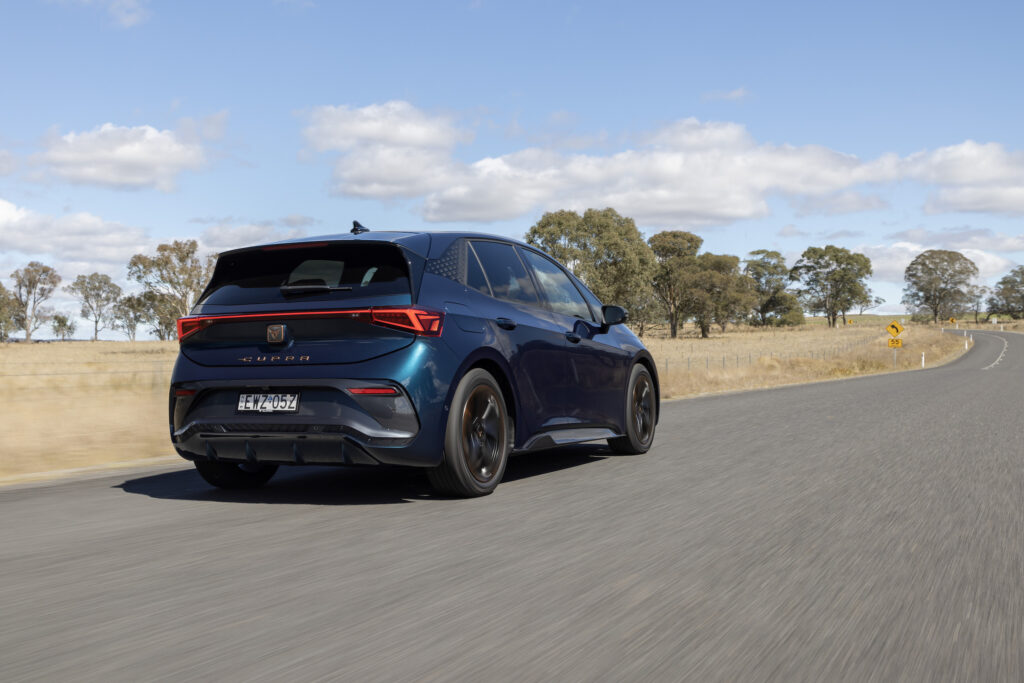 Still, with a WLTP range of 511km for the base vehicle and 475km for the Performance pack there's loads of range to play with. Just keep in mind that the NMC lithium-ion batteries prefer to be topped up to only 80 percent for regular running, with the full 100 percent for longer drives.
Charging
The Cupra Born can be charged at up to 11kW using an AC outlet. That means a full charge in about eight hours, or more like 11 hours from a 7.4kW wallbox. Charging from a regular powerpoint would take about 40 hours.
Public DC fast charging can be done at up to 170kW for a 10-80 percent charge in 34 minutes.
It's worth noting that the Born doesn't get a regular home charger to plug into a standard powerpoint; you'll have to splash out on one if that's what you're planning to charge with. Instead it comes with a Type 2 to Type 2 cable that can plug into some home wallboxes and public charging stations.
Ride and handling
The Cupra Born is designed to be fun to drive. You get that when you press the throttle.
It's also good through corners, too. The steering is accurate and predictable and works as well zipping through roundabouts as it does on a winding road.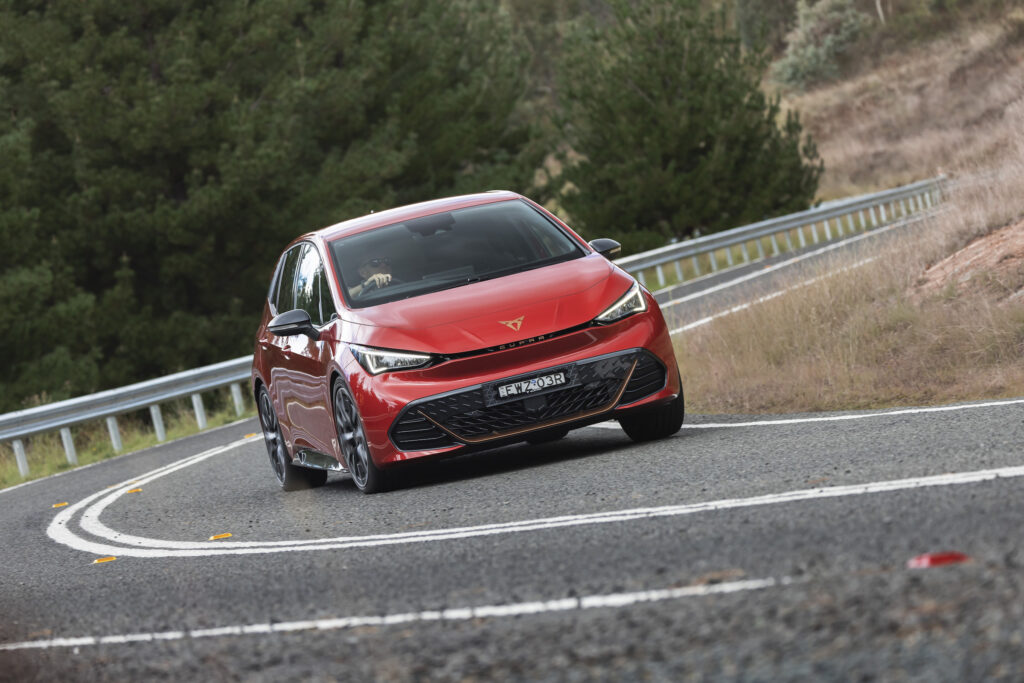 The 19-inch tyres have clearly been chosen for efficiency, with a tendency to reach their limits of adhesion once you up the tempo. It's all very predictable, but ultimately limits the pace.
Step up to the 20-inch tyres of the Performance pack and it's a marked step up, allowing more pace through bends and greater confidence. Dial up the Cupra mode and there's extra weight to the steering and a more energetic feel.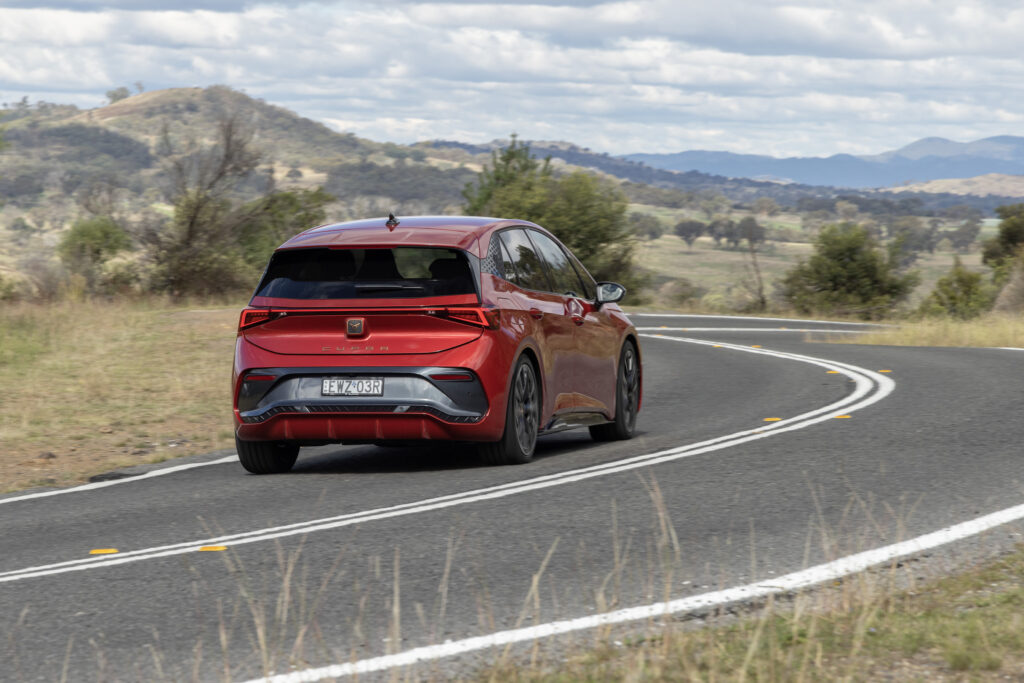 The adjustable dampers also add to the control, especially when encountering mid-corner bumps. It's firmer in Performance and Cupra modes but still has ample compliance for everyday comfort.
Talking point
The Cupra Born is effectively a sportier and sexier version of the Volkswagen ID.3. While it uses the same battery and electric motor, Cupra has included a boost system that ups the peak power from 150kW to 170kW.
There's no activating those extra 20kW; they just kick in once the motor is spinning fast enough to produce that 170kW peak.
Safety
As well as airbags and an optimised crash structure there's a full suite of active safety gear. That incorporates autonomous emergency braking (AEB), blind spot monitoring, rear cross traffic alery, lane keep assistance and side assist with exit warning. There's also a 360-degree camera and driver fatigue detection.
The main omission is a speed limit recognition system.
Verdict
The Cupra Born is a welcome addition to the EV market. It brings a refreshing mix of driving engagement and practicality in a keenly priced package that also looks slick.
Its long driving range adds to its appeal.
Cupra Born specifications
Price: $59,900, plus on-road costs
Basics: EV, 4/5 seats, 5 doors, hatch, RWD
Range: 511km, 475km (Performance pack), (WLTP)
Battery capacity: 77kWh (usable)
Battery warranty: 8 years/160,000km
Energy consumption: 17.0kWh/100km
Motors: 1 rear 170kW/310Nm
AC charging: 11kW, Type 2 plug
DC charging: 170kW, CCS combo plug
0-100km/h: 7.0 seconds