Affordable electric cars: What you can buy right now
We all have different ideas of what 'affordable' means, and with only a handful of new electric cars costing less than $50,000 in Australia – and none under $40,000 – zero emissions motoring remains out of reach to many.
EV ownership need not be the reserve of the super wealthy however. For those with a budget from $44,000 to $80,000, electric car options are plentiful and set to boom in the coming months. All prices are before on-road costs unless stated.
Want the latest EV news and reviews delivered to your inbox? Subscribe to our weekly newsletter!
In order from the cheapest to the most expensive, here are all the affordable electric cars currently available in Australia.
READ MORE: See our full EV calendar of every new electric car coming soon
READ MORE: EV ute overload: the electric pickup trucks coming soon
Affordable electric cars: Under $50,000
MG ZS EV – $43,990 drive-away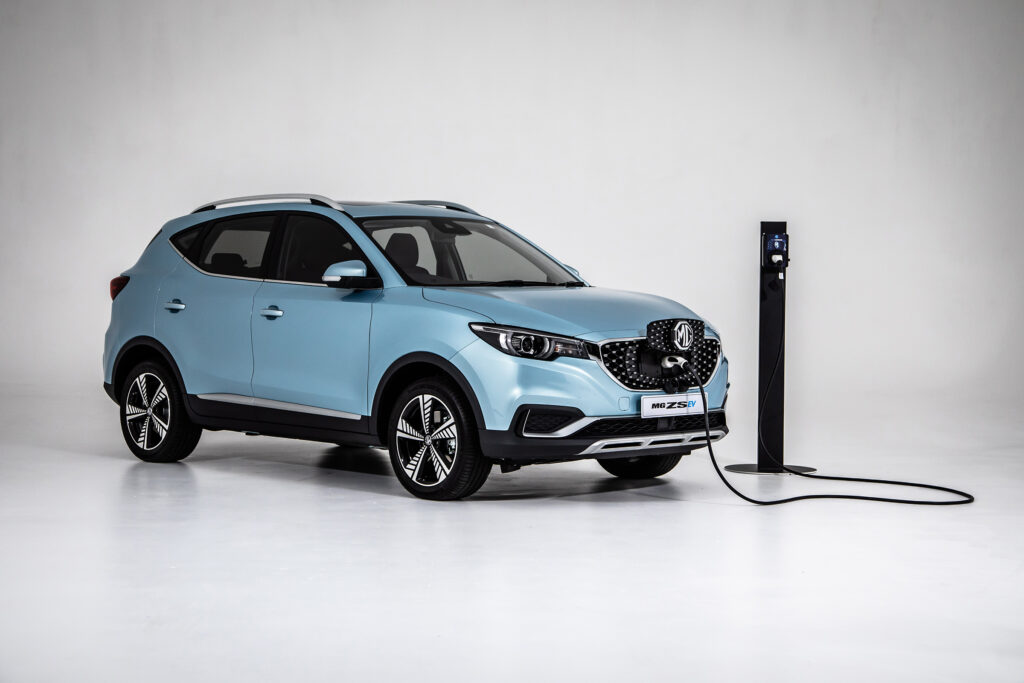 Cheapest new battery electric vehicle for sale in Australia by quite a margin. A small SUV based on the rather dated MG ZS model (not the facelifted ZST) it's a cheap EV, but this full electric version is nearly twice the price of a regular petrol MG ZS.
The ZS EV is front-wheel-drive with its single motor offering 105kW and 353Nm. A 44.5kWh battery pack offers a claimed 263km, but our tests proved this to be optimistic: expect around 230km in reality. Using a 50kW charger, you get an 80 percent fill in about 40-45 minutes.
Not thrilling to drive, it's at its best as a city slicker. Not the plushest of cabins either, but decent features include faux leather trim, heated seats, active cruise control, panoramic sunroof, 8-inch touchscreen and 17-inch alloys.
Five-year/unlimited km warranty – two years less than combustion MGs – but safety kit is very good and it has a five-star ANCAP crash rating.
Hyundai Ioniq Electric Elite – $48,970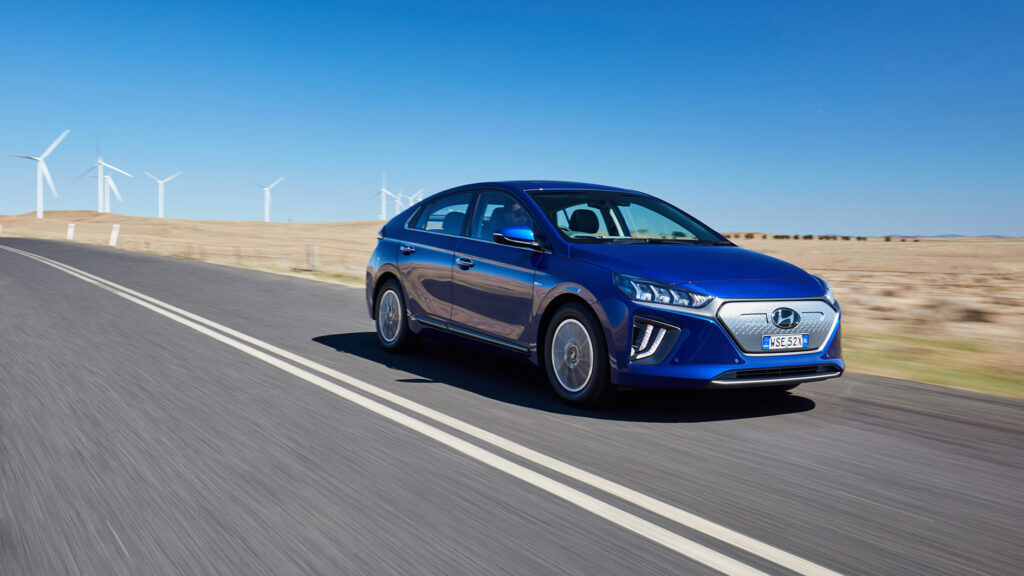 Hyundai's five-door lift back was introduced in 2018, and the current facelifted model uses a 100kW/295Nm electric motor turning the front wheels. It's 38.3kWh liquid-cooled battery gives a range of 311km, while its its energy consumption was an impressive 12.6kWh/100km on our test.
Using a 100kW DC fast charger you get an 80 percent recharge in 54 minutes, or with a 50kW charger, 57 minutes. A home wallbox AC charger does the job in about six hours.
The Toyota Corolla-sized Ioniq is no oil painting in the metal, but is comfortable and roomy inside, drives well and offers decent equipment. This Elite grade scores a 10.25-inch touchscreen, wireless phone charging, smart cruise control and exceptional safety kit.
Five-year unlimited km warranty, five-star crash rating and services are only $160 per year/15,000km.
Cheaper Hybrid ($34,790) and Plug-In Hybrid Ioniqs ($41,990) are available if you don't want to fully commit to an EV, while a Premium version with fancier cabin is $52,490.
A decent offering, but will look incredibly dated when the new Hyundai Ioniq 5 arrives.
Nissan Leaf – $49,990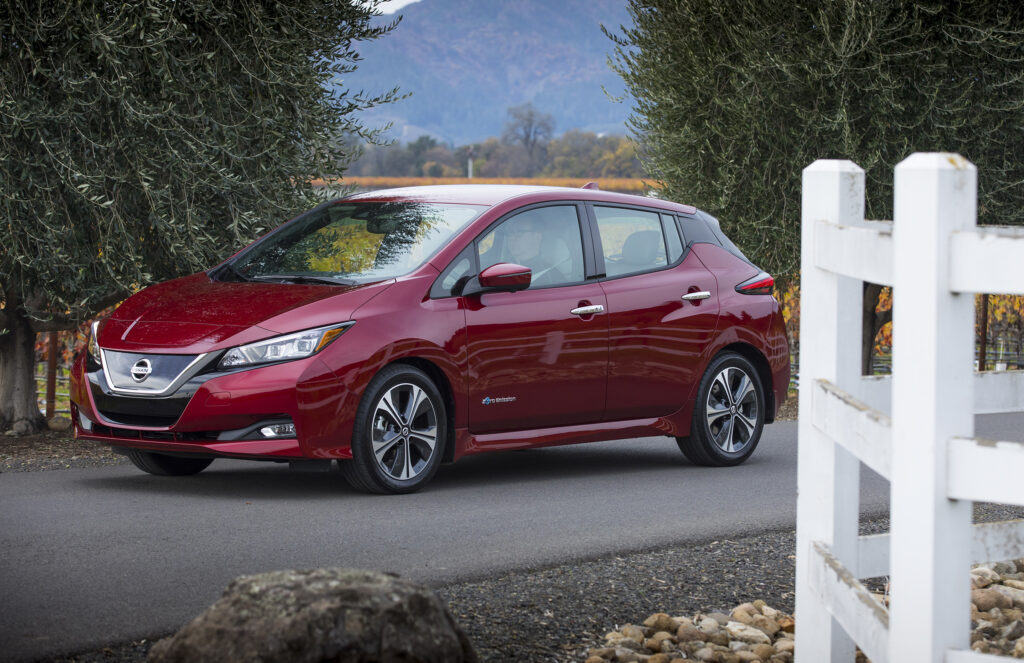 Was the world's best-selling EV until the Tesla Model 3 swept all before it, and the evergreen Leaf recently celebrated its 10th birthday and 500,000th sale.
The small hatchback has cemented its place in EV history, but is showing its age in the fast-moving electric car world. Bi-directional charging capability is a massive plus point – allowing you to power your house or feed back into the grid – but claimed range of 270km, and realistic range of 250km, is less positive.
A single electric motor powers the front wheels, delivering 110kW and 320Nm for decent shove off the line. Ride and handling's good if uninspiring, while safety kit is impressive.
An air-cooled 40kWh battery can be DC charged up to 50kW, meaning an 80 percent charge is done in an hour. With AC charging at up to 6.6kW, a full charge using a home wallbox will take around seven hours.
Goodies include Bose audio, sat nav, 8-inch touchscreen, heated seats front and rear, active cruise control and leatherette plus suede seating. The rest of the cabin is a bit, well, basic Nissan, but space is generous and a 405L boot not bad at all.
For $60,490 a Leaf e+ has a 160kW/340Nm motor, 56kWh battery, range of 385km and ability to accept 100kW charging.
And don't bother with the pricey Full-Self Driving option; Elon Musk previously promised autonomous cars would be here as early as 2018 and there's no sign they'll be here anytime soon.
Affordable electric cars: $50,000-$60,000
Mini Electric Cooper SE – $54,800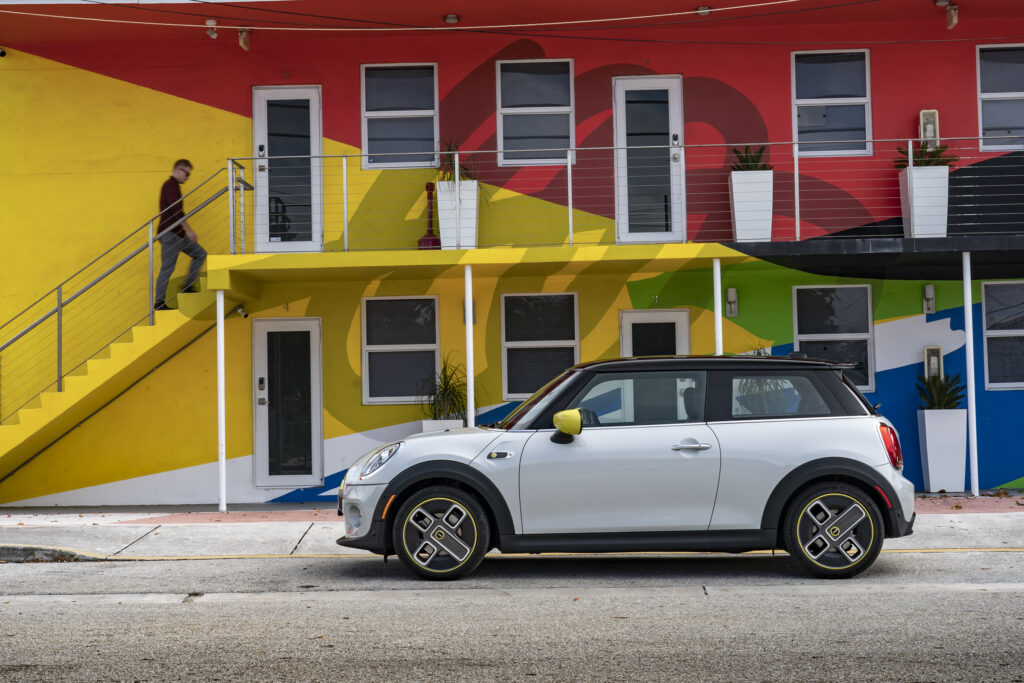 Only three doors, four seats and a claimed range of 233km (though expect closer to just 170km) – this city hatch is not the last word in practicality. But, being a Mini, here's an EV with true aesthetic appeal.
A single electric motor for the front wheels brings 135kW/270Nm and 0-100km/h time of 7.3-seconds. Battery is a modest 32.6kWh, though it means DC charging up to 50kW will give you 80 percent charge in 36 minutes. The same amount of charge is given in 2.5 hours with an 11kW AC home charger, or four hours with a 7.4kW charger.
Included are leatherette heated sports seats, Nappa leather steering wheel, adaptive cruise control. 8.8-inch touchscreen, wireless phone charging and strong safety kit.
Those batteries make it heavy for a Mini, but the fun drive experience and decent handling the car's famous for remain for the most part. Also classically Mini, don't expect much in the way of rear seat or boot space.
Affordable electric cars: $60,000-$70,000
Hyundai Kona Electric Elite – $62,000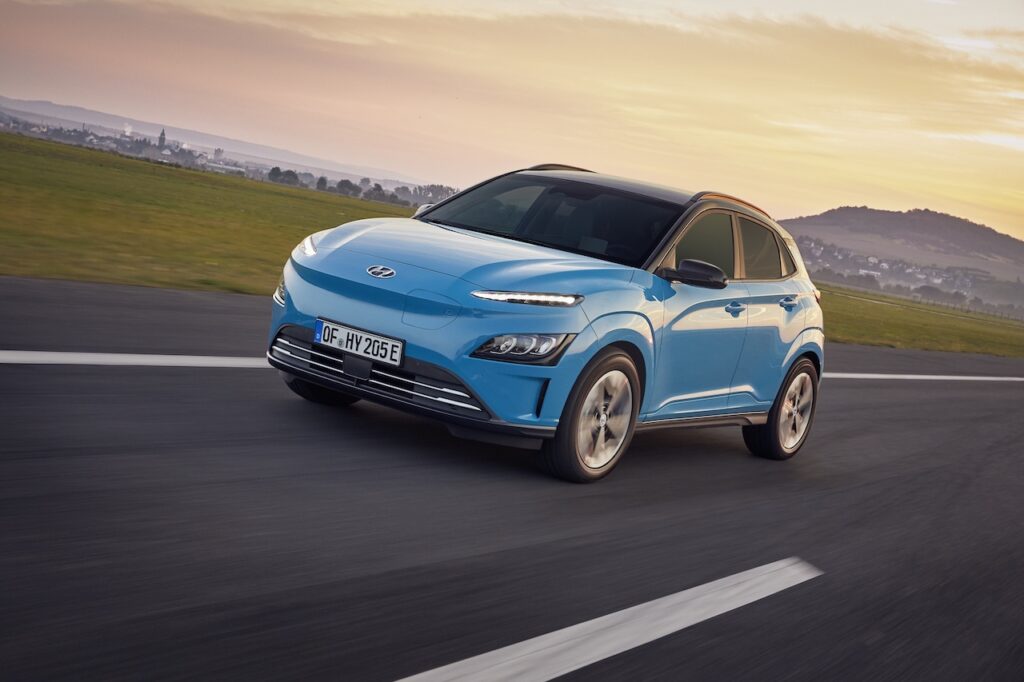 Recently refreshed for 2021, Hyundai's all-electric small SUV is a good all-rounder with impressive range, although it comes at a price.
Real-world driving range of 484km – which unlike many other EVs, is perfectly achievable – erodes the range anxiety seen in our sub-$60,000 EVs.
Its large 64kW battery means it takes just over nine hours to fully recharge using a 7.2kW AC home wallbox charger. A 100kW DC fast charger will do the 80 percent charge in 47 minutes.
A single motor powers the front wheels, offering 150kW/395Nm and surprising off-the-mark acceleration, despite the front wheels often protesting. We even took one hill climbing with decent results, helped by impressive body control.
Generous active safety equipment, leather appointed interior, wireless phone charging, Harman Kardon sound system, 10.25-inch touchscreen, radar cruise control and sat nav are standard in the Elite grade. A pricier Highlander model ($66,000) includes heated/ventilated power seats, glass sunroof and ambient lighting.
Five-year/unlimited km warranty, but like the Hyundai Ioniq, the Kona Electric will feel a dated offering when the Hyundai Ioniq 5 arrives.
Kia Niro Electric S – $62,590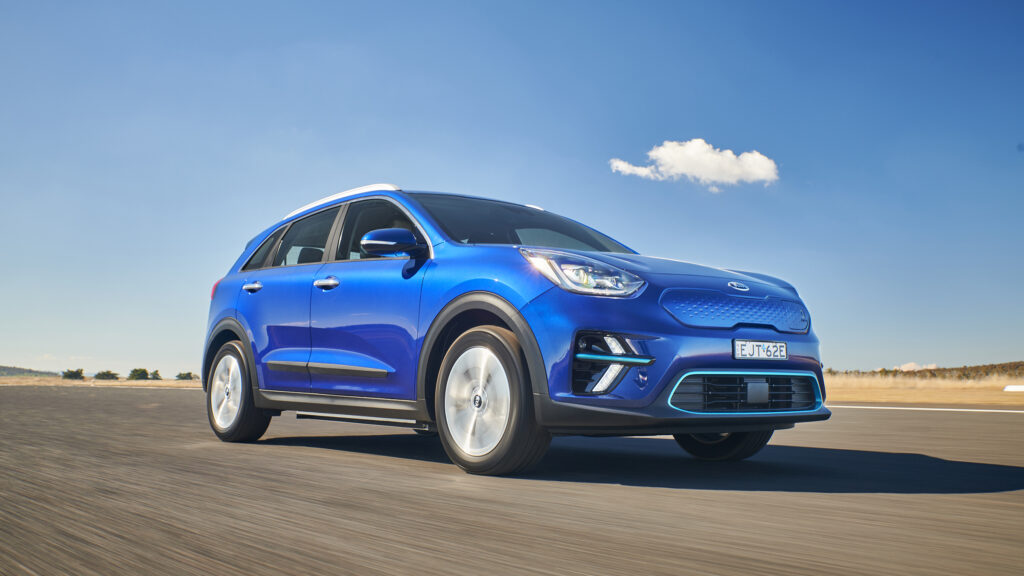 Fresh on the scene, the Niro compact SUV is Kia's first electric vehicle, launched alongside plug-in and hybrid variants. It's a relatively old model however, and late in coming to Australia.
Uses the same battery pack and electric motor as the Hyundai Kona Electric, meaning 150kW/395Nm through the front wheels, a 64kWh battery pack and range of 455km. AC home wallbox charging up to 7.2kW gives a full charge in just over nine hours, while 100kW DC fast charging gets from 0-80 percent in just under an hour.
The cabin's somewhat plain compared to modern Kia offerings, but you get an 8-inch touchscreen, partial leather trim, radar cruise control, reasonable active safety and wireless Apple CarPlay/Android Auto, although no wireless charging.
Its drive is nippy and ride and handling is fit for purpose – although it missed out on a bespoke Kia Australia tune. More practical that its size suggests, rear seat space is good and boot's a generous 451-litres. Its seven-year/unlimited km warranty is excellent.
The eagerly anticipated Kia EV6 offers far more to get excited about from the Korean brand, and makes the Niro Electric look expensive.
Mazda MX-30 E35 Astina – $65,490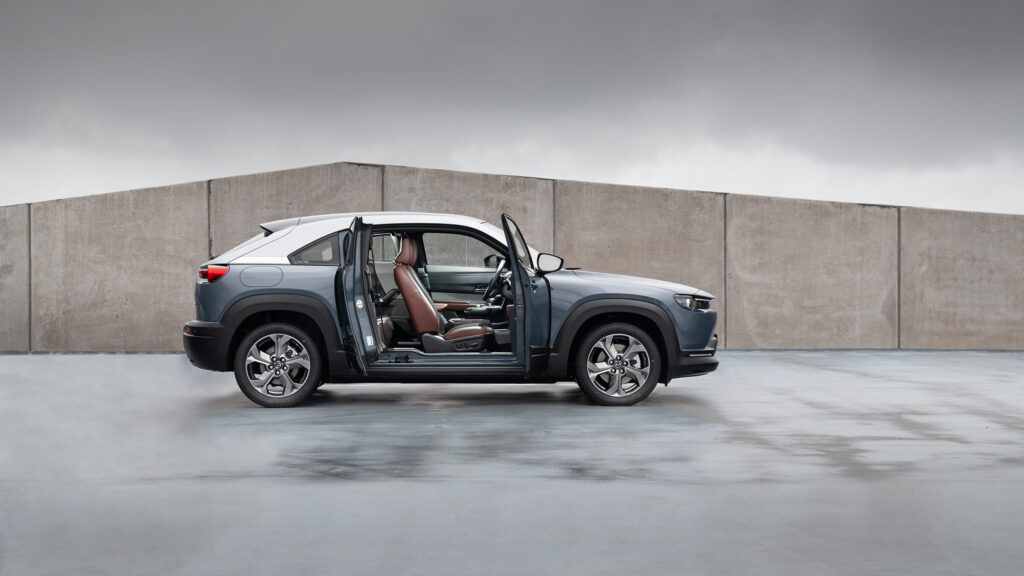 Mazda's new entry to the full EV world arguably puts style over substance. It's beautiful in the metal, but offers a range of only 200km, having many question its premium price tag.
Yet the small SUV is one of the most compelling EVs available, with funky touches including 'Freestyle' rear doors (suicide doors, you may call them), beautiful vintage brown fake leather seating, cork finishes and coupe-like styling.
Our pre-production MX-30 test revealed the SUV to offer decent oomph, solid handling and good control, helped by the lighter battery (compared to many rivals) not making this Mazda too much of a heavyweight at 1654kg.
The single motor sends 107kW/271Nm through the front wheels, but the battery's a small one at just 35.5kWh. It means a charging time of three hours from 20% to 80% using an AC home wallbox at the maximum 6.6kW, or the same charge takes 36 minutes using a 50W fast charger.
Only one grade's available, and inclusions are rich. Bose audio, 8.8-inch touchscreen, sat nav, glass roof, colour active driving display on the windscreen, radar cruise control, heated power seats and steering wheel plus comprehensive safety.
Not a practical family SUV with those funky doors and small 311-litre boot, but certainly an EV for the in-vogue urbanites not minding a dash of range anxiety.
Tesla Model 3 Standard Range Plus – $62,900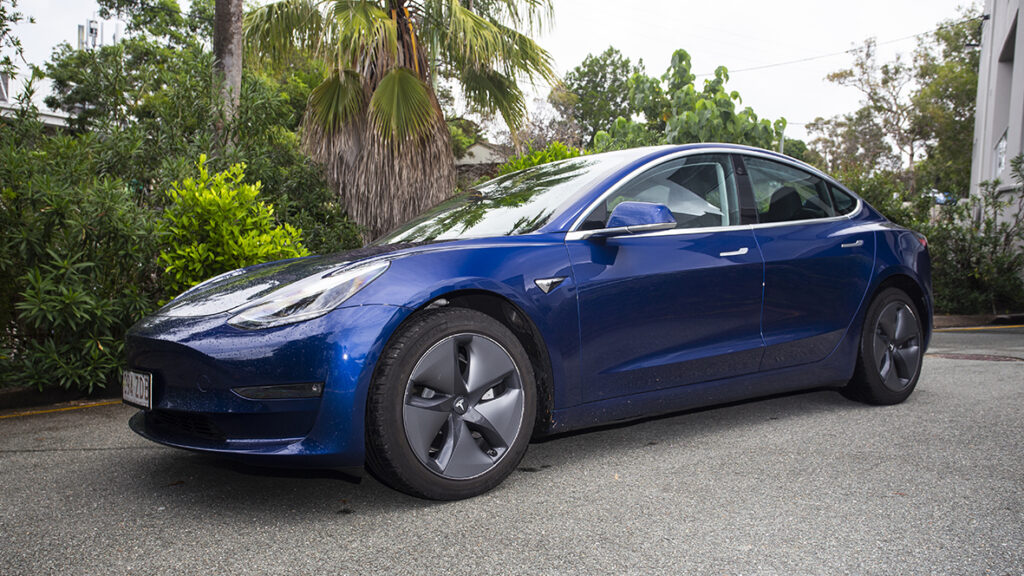 The hero EV in many eyes. The best-selling electric car of all time, and now cheaper than ever due to recent price cuts. Little wonder the Model 3 is the poster child for zero emissions motoring.
WANT TO SAMPLE THE TESLA MODEL 3 FOR AS LITTLE AS $420 PER WEEK? Click here to find out more
FULL REVIEW: Tesla Model 3 Standard Range Plus
The cheapest Model 3 you can buy still offers impressive statistics. A single 225kW motor sends power through the rear wheels and offers a rapid 0-100km/h time of 5.6-seconds. Range is claimed at 508km but that figure is mostly unachievable; the WLTP range is 440km and the realistic range is still south of that. Tesla won't reveal the battery capacity, but digging by enthusiasts suggests it's about 50kWh.
Performance and handling are very good indeed, although the ride is on the firm side to help deliver that sportiness.
Included are heated front seats, tinted glass roof, wireless phone charging, an enormous 15-inch centre touchscreen, good active safety kit, basic Autopilot radar cruise control and a minimalist interior like no other car you've seen.
Premium Connectivity (subscription service) gives you access to video streaming content from Netflix, YouTube, etc, an internet browser, Caraoke (karaoke), satellite view maps and live traffic. You can also play car racing games (when stationary) using the Tesla's steering wheel. Little wonder kids these days all want Teslas.
Rear passengers enjoy decent space, while the boot and frunk (front trunk) combine to offer a decent 542-litres. Warranty is a rather stingy four years/80,000km, but the Model 3's ANCAP safety rating is five stars.
Pricier, all-wheel-drive and crazy fast Model 3s are available, but this entry-level is arguably all you'd ever need.
Affordable electric cars: $70,000-$80,000
BMW i3s 120Ah Electric – $71,900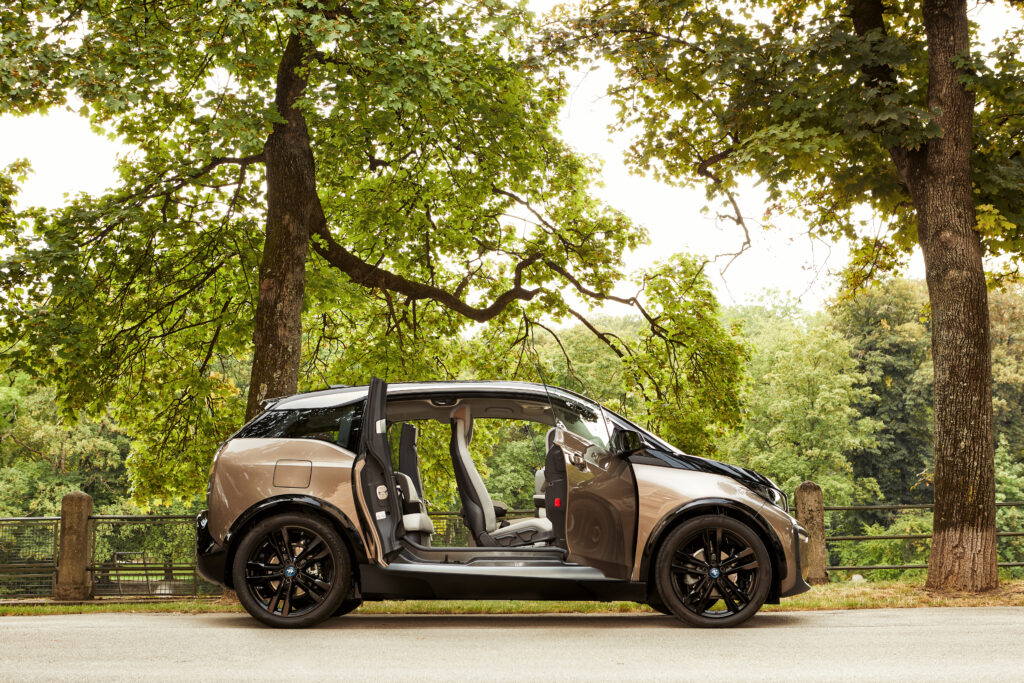 If you can't resist the i3's charms, get one quickly because BMW won't be building the five-door city hatch for much longer.
Aluminium chassis, carbon-fibre-reinforced-plastic passenger cell, plastic body panels, rear-mounted motor and suicide rear doors, the baby BMW is a radical city car that has proved a true electric car pioneer. It belies its small size by offering each of the four passengers decent space in a truly funky yet premium cabin, although the boot's a titchy 260-litres.
Power through the rear wheels is from a 135kW/270Nm single motor fed by a 42kWh battery. Range is a claimed 260km, but in reality, don't expect much more than 200km from a single charge. A 50kW fast charger will see it reach 80 percent charge in 45 minutes, while an 11kW AC home wallbox charger does the job in a smidge over three hours.
The i3s is now the only variant you can buy, this sporty model coming with 20-inch wheels, sports suspension, wheel arch extensions and dual-colour paint. Fun to drive, quick enough at 6.9-seconds to 100km/h and solid handling live up to the BMW badge, although some drive comfort is sacrificed. Its sub-1300kg weight is light for an EV, giving it entertaining agility.
You get a digital dashboard and 10.25-inch touchscreen as part of an impressive standard equipment list, and although safety inclusions are strong, its ANCAP five-star rating was given way back in 2014 (the five-star requirements have moved on enormously since then).
There's a poor three-year/unlimited km warranty; the i3 is now an old model and looks expensive against the latest competition.
Mercedes-Benz EQA 250 Electric – $76,800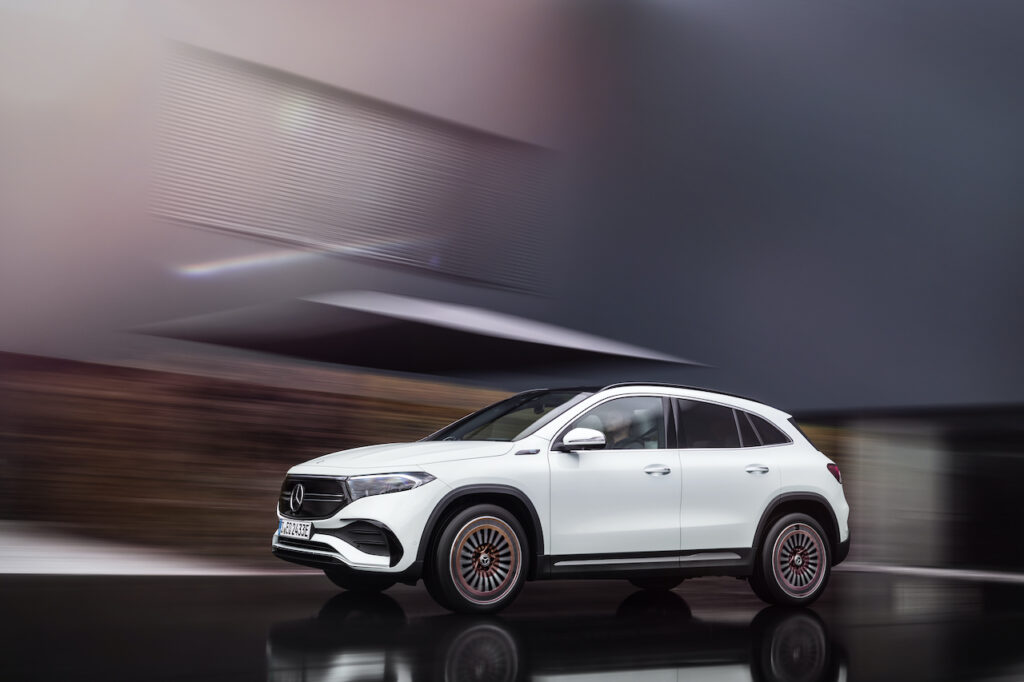 Fresh on the scene, the EQA 250 is the EV equivalent of Benz's combustion-engine GLA small SUV. It is priced only $9900 above its GLA 250 ICE equivalent – compare that to the $20k-pricier MG ZS EV over its ICE stablemate.
The single electric motor sends 140kW/375Nm through the front wheels, fed by a 66.5kWh battery pack. Quoted range is an impressive 426km, while a 10-80 percent charge is managed in 30 minutes using a 100kW DC fast charger. A Mercedes-Benz AC wallbox will do the same task in just over four hours.
Goodies include impressive 'Hey Mercedes' MBUX infotainment, dual 10.25-inch screens, power tailgate, wireless charging, heated power front faux leather seats and lengthy safety kit. Also standard is driving mode selection with adjustable suspension damping and 19-inch AMG 5-twin spoke light-alloy wheels.
One of the cheapest EVs available from a traditional luxury brand, and one to cross-shop against the Tesla Model 3.