EV ute overload: The electric pickups coming soon
The Nikola Badger may have just got scratched off the list, but there's still no shortage of electrified utes under development.
In fact, we reckon there are almost 20 load-haulers either confirmed or said to be on the way to production.
Not everyones convinced there's a market for them all, but that doesn't seem to have dulled enthusiasm. Let's check out the list.
Want the latest EV news and reviews deliverd to your inbox? Subscribe to our weekly newsletter!
Tesla Cybertruck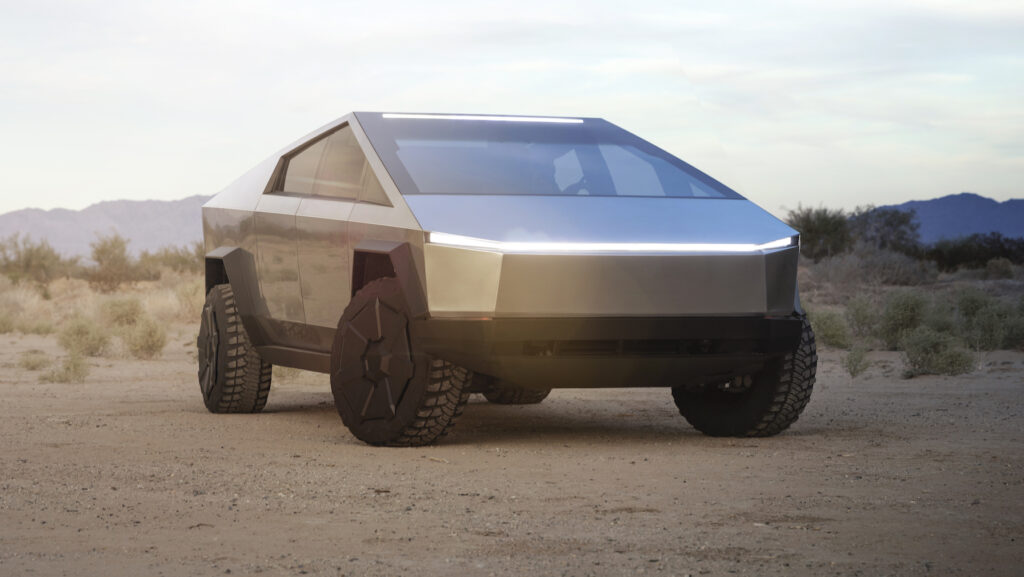 The top of the pile when it comes to attention, the Cybertruck just about broke the internet when Tesla design chief Franz von Holzhausen broke two of its windows during the global unveil late in 2019.
The space age Cybertruck was a self-admitted design risk by Tesla but the response has been so strong Elon Musk says it's given up counting the rerservations.
To be built at a new Gigafactory in Austin Texas, with first US deliveries were scheduled for production late in 2023, having been delayed on multiple occasions.
Will it come to Australia? In some form possibly, although Musk keeps dropping hints that the sheer size of the Cybertruck might have to be scaled back for export markets. Plus, Musk has previously said it wasn't designed to meet European regulations … which closely align with Australian Design Rules (ADR).
Tesla previously took $150 refundable pre-orders in Australia, but it has since stopped taking them. If that happens, expect it to be offered with the choice of single, dual and tri-motor powertrains; US pricing initially kicked off at US$39,900 but the company has since admitted it'll be north of that.
Ford F-150 Lightning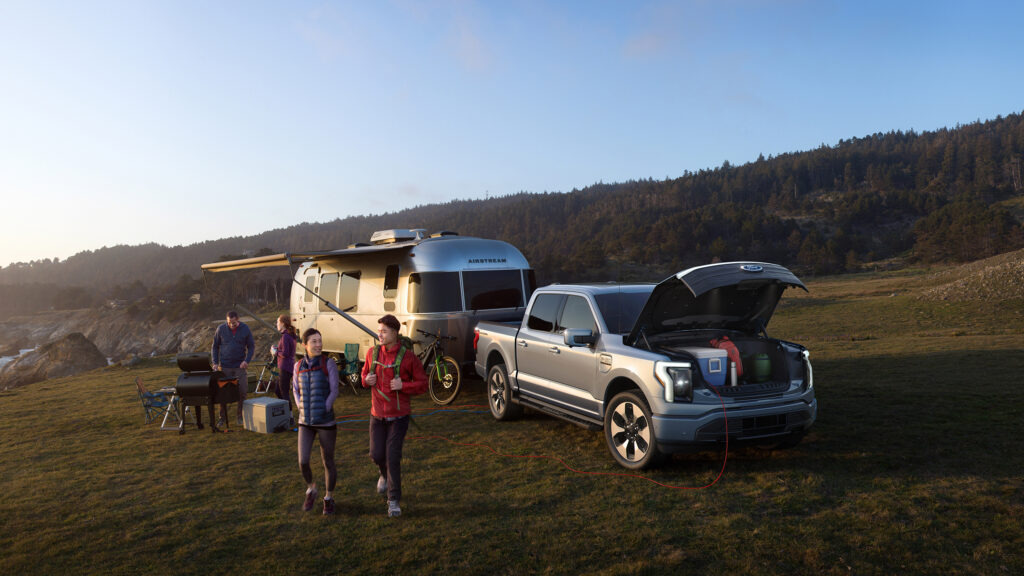 The biggest-selling pick-up truck in America is the F-150 and in 2022 – the F-150 Lightning production line started rolling in September 2021 – it added a battery electric version called the F-150 Lightning.
All models will have dual motors for four-wheel drive capability and the F-150 Lightning sells from US$40K (minus taxes and on-road costs).
The most powerful F-150 Lightning will have up to 433kW and 1051Nm and be capable of faster acceleration than any petrol-powered F-150 before it. The Lightning will also be able to tow up to 4535kg.
As for the chances of seeing the F-150 Lightning in Australia, it's unlikely to appear in a Ford dealership anytime soon. That said, in 2023 Ford will start selling the regular F-150 in Australia.
Theoretically, it should be easier to engineer a right-hand drive model from the factory, although clearly the numbers have to add up for someone to push the button.
Either way, expect local aftermarket conversion houses to offer the car in Australia.
Toyota Hilux EV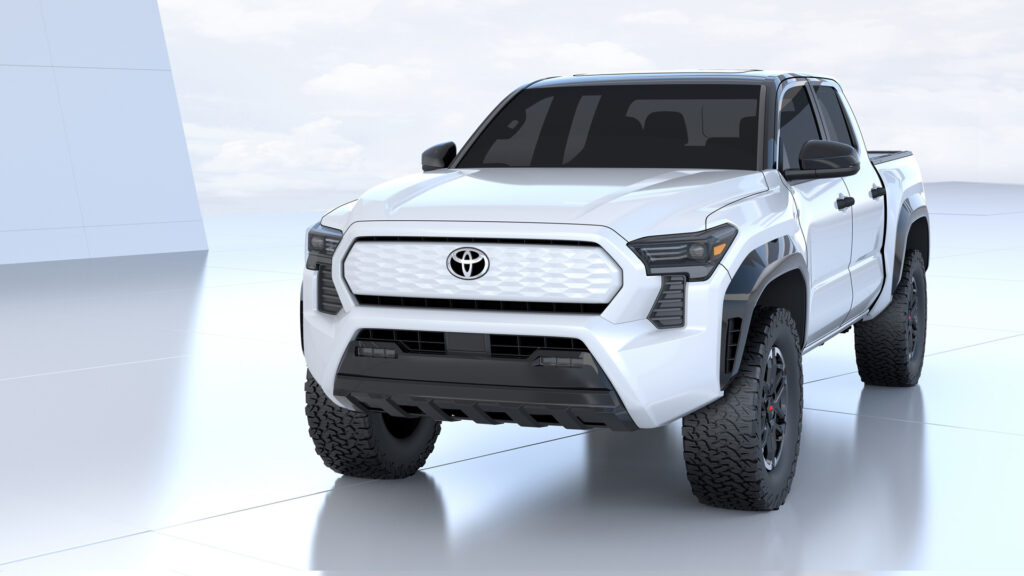 An electric ute is one of at least 15 battery electric Toyotas due by 2030.
And while Toyota hasn't gone into details just yet, it's shown off a concept that shows a stylish and aggressively-styled EV ute simply known as the Pickup EV concept.
It gives a strong clue to Toyota's thinking with an electric version of the Hilux, even if details of the imminent new model are scant for now.
Clearly Toyota is keen on an EV ute that would provide an alternative to the diesels that dominate today; overseas it has also developed an EV version of the existing Hilux. But it is also leaving the door open to hydrogen fuel cell tech, something the company continues to hint could be better suited to Australian requirements.
Either way, the legions of Hilux fans should be satisfied that an EV version of the famous ute is in the long term Toyota EV mix.
And it looks like it could be a very attractive proposition – one that also lives up to the hard core off-road ability Toyota does so well.
GMC Hummer EV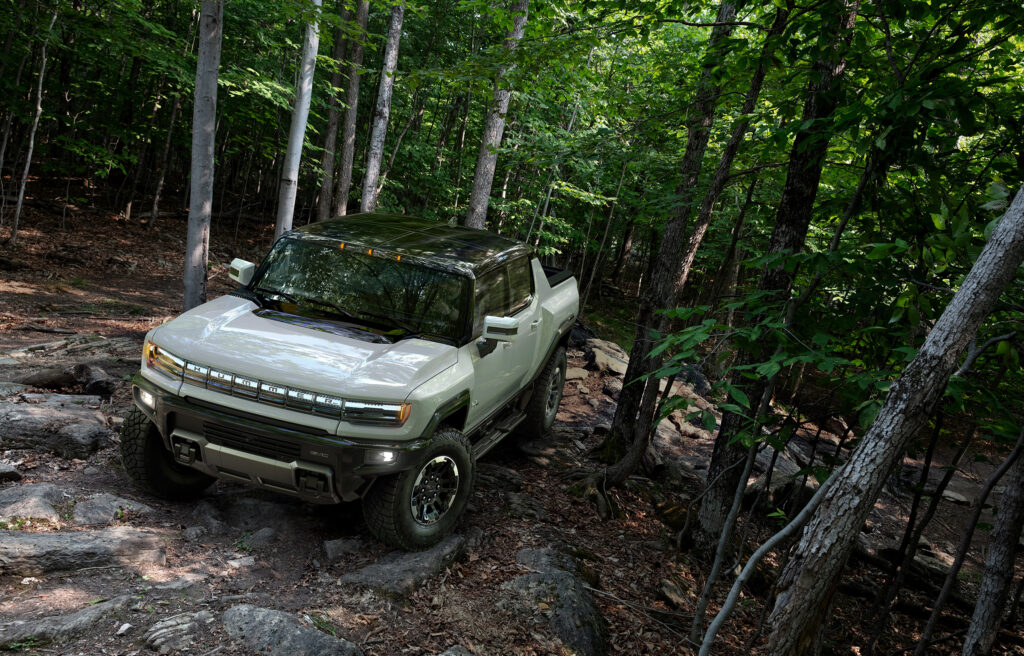 While General Motors is making a massive commitment to EVs and has teased an electrified Chevrolet pick-up to go head-to-head with the F-150, the one concrete indication we have seen so far of its battery electric pick-up capabilities is the GMC Hummer SUT.
Hummer used to be a stand-alone brand of heavy-duty 4x4s that GM killed off during the Global Financial Crisis. It has now re-established it as an electrified sub-brand of GMC.
On-sale in the USA from late 2021, the Hummer lobs with super-expensive launch pricing and immense capability courtesy of a 745kW tri-motor powertrain. Less expensive and powerful Hummers will launch later.
As a visual and performance statement it naturally draws comparisons with the Cybertruck.
There is a chance the Hummer will come to Australia under the auspices of the GM Specialty Vehicles business that replaces the culled Holden.
Kia electric ute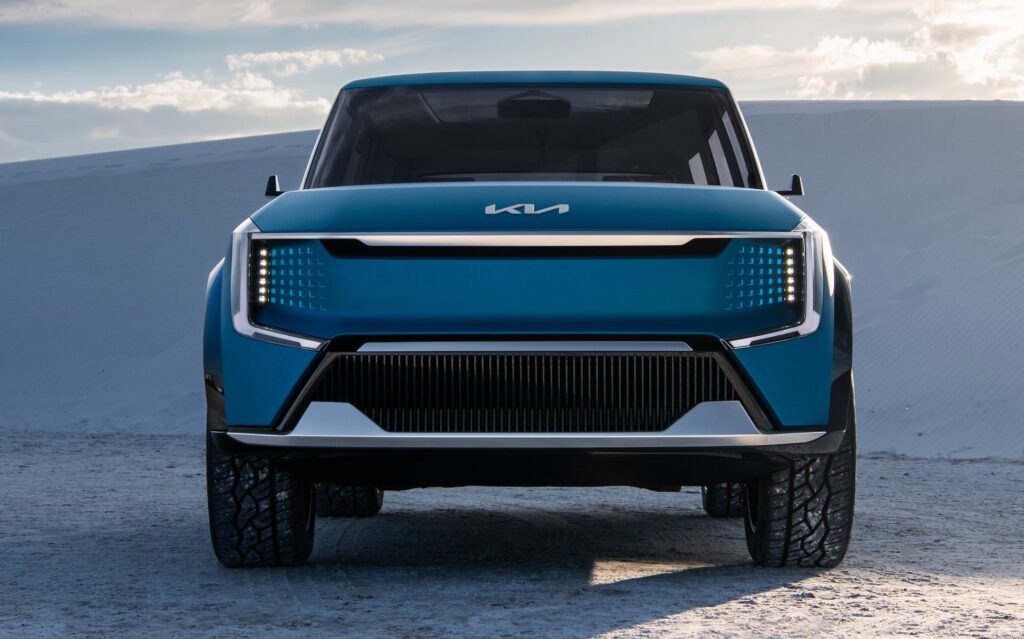 It's no secret Kia is working on a ute, something that's expected to hit Australian dealerships in 2025. No word yet on the design of what would look to tackle the dominance of the Ford Ranger and Toyota Hilux, but there's every chance it could lean on the aggressive looks of the EV9 SUV (pictured above).
The company is also believed to be working on an EV version, something that would likely arrive after than the diesel and/or petrol versions.
It's likely to use the 800V electrical system in the Kia EV6.
Rivian R1T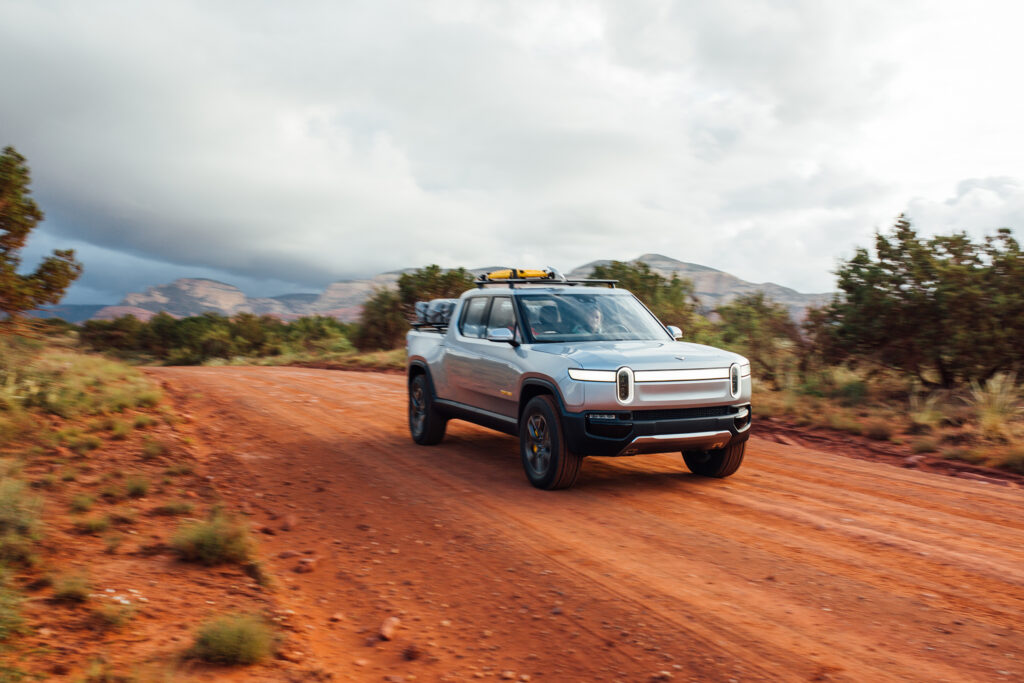 With backing from Ford, retailing giant Amazon and the world's largest asset manager Blackrock, the US start-up shows strong signs of being able to make the transition from good idea to viable production reality.
The launch edition of the R1T and it's SUV close relation the R1S, went on sale late in 2021 – Rivian production started in September 2021 – and people have been tripping over themselves to get hold of limited supply.
The basis of the R1T is a bespoke skateboard chassis that houses four 147kW electric motors producing a combined 1400Nm of torque. Three battery options will be offered – 105kW, 135kWh and 180kWh.
Australia is yet to be confirmed as a Rivian market, but there have been promising hints of local plans in the past. And Queensland company AUS EV says the the Rivian is coming to Australia "one way or another".
Toyota LandCruiser 70-Series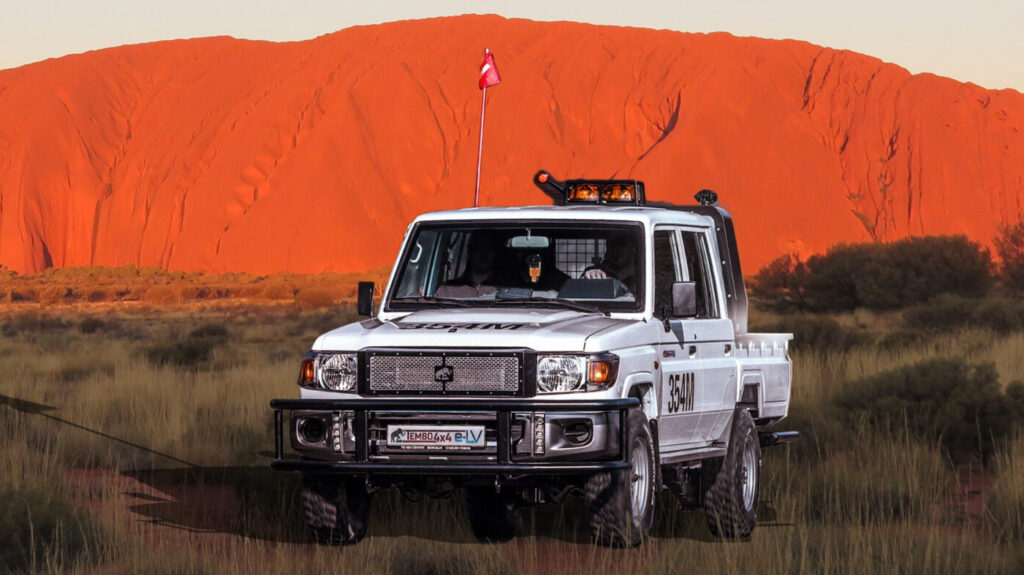 It's the most rugged and utilitarian LandCruiser in a Toyota showroom but the mighty 70-Series is soon set to go electric.
Since 2020 Toyota and mining giant BHP have been testing a LandCruiser 70-Series converted to electricity by Tembo e-LV locally.
In 2021 Toyota inked a deal with the company to supply the 70-Series EVs to mining companies.
However, despite work continuing on the electric LandCruiser Toyota execs have also warned that the earliest the vehicle will be available would be around 2026.
Lordstown Endurance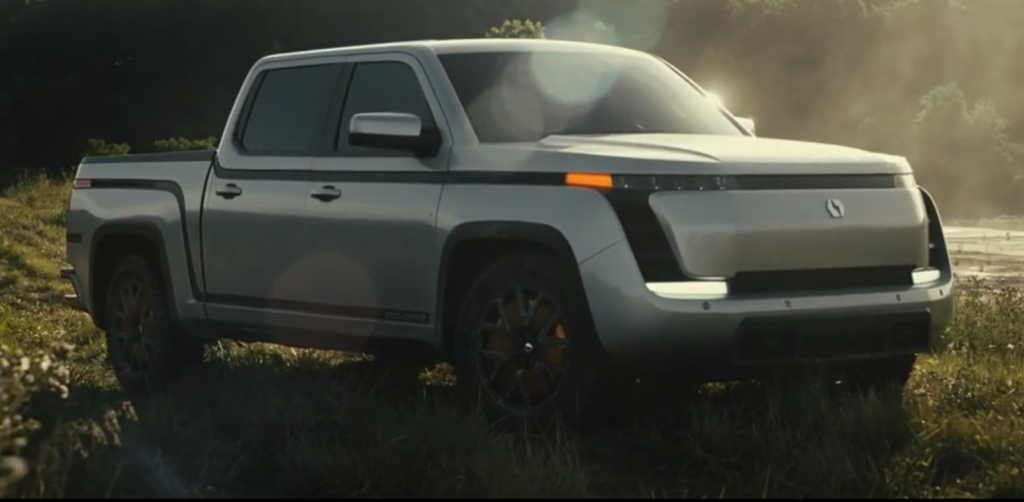 While rival electrified utes sell on style and recreational capabilities, the Endurance is all about working for a living.
Former Lordstown Motors founder and CEO Steve Burns has focussed on the fleet market to generate Endurance sales.
The truck has four in-wheel motors – which creates significant engineering challenges – and a focus on reliability and getting the job done.
But the future of Lordstown is looking very shaky. Burns has left the company and it has recently filed for bankruptcy and put itself up for sale, blaming a financial dispute with partner Foxconn.
Lordstown missed its planned January 2021 production start-up date and the handful of cars produced early in 2023 had to be recalled.
Bollinger B2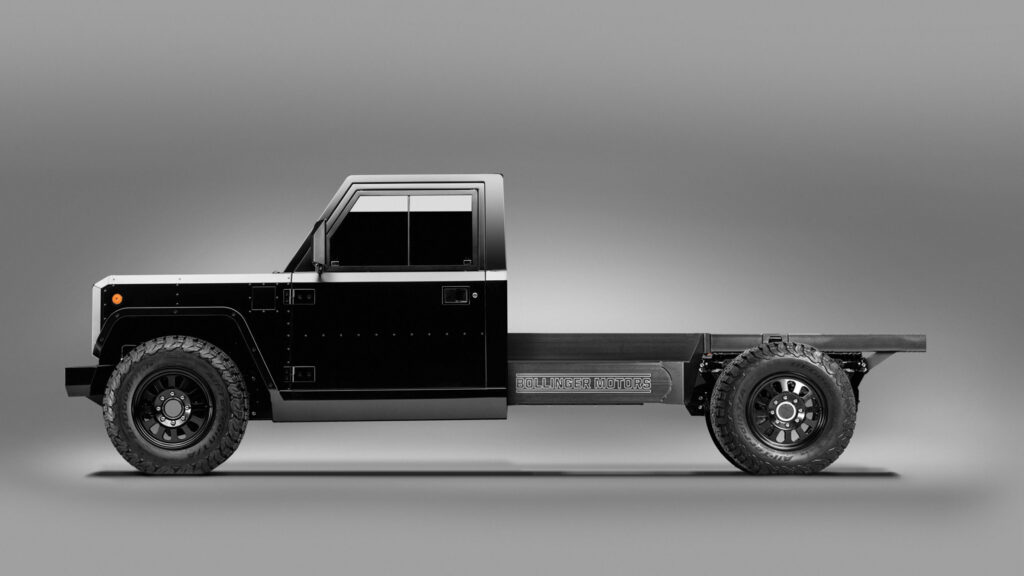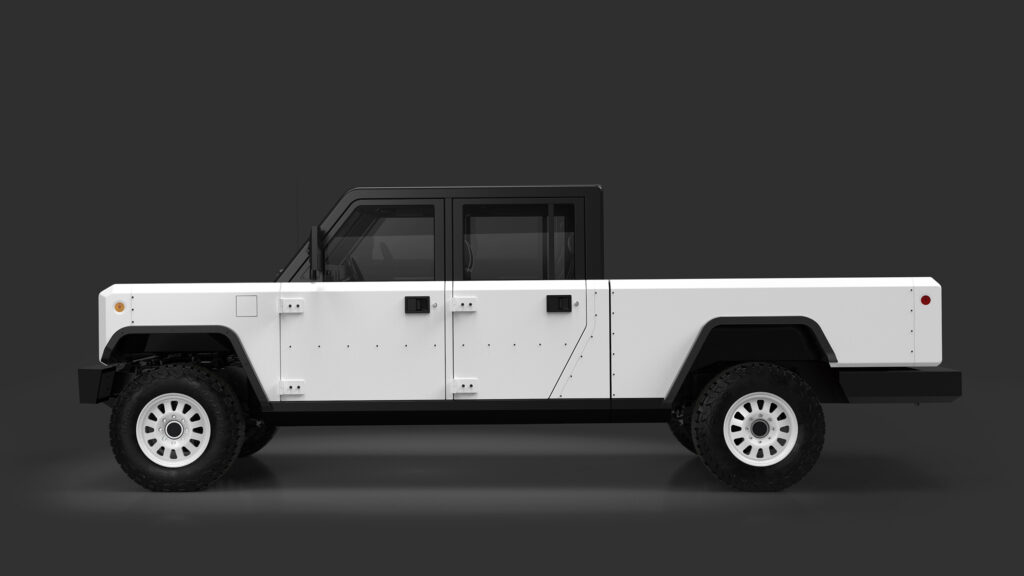 The US start-up planned to roll out its boxy B2 pick-up from late 2021. That has since changed as the company turned its focus to its commercial vehicles.
The B2 (a cousin to the B1 wagon) hasn't been completely killed off, but it's been "indefinitely" delayed; that includes the cab chassis that was in the EV mix.
The B2 wasn't looking like being cheap despite the simplicity of its aluminium body. A sizeable 142kWh battery pack was claimed to cover about 320km between charges. Two electric motors, one for the front wheels and one for the rear, combine to produce 614 horsepower, or 451kW. The claimed 0-60mph (0-96km/h) time was 4.5 seconds.
Australia? Well, let's see if it makes it into production first.
Ram mid-sized ute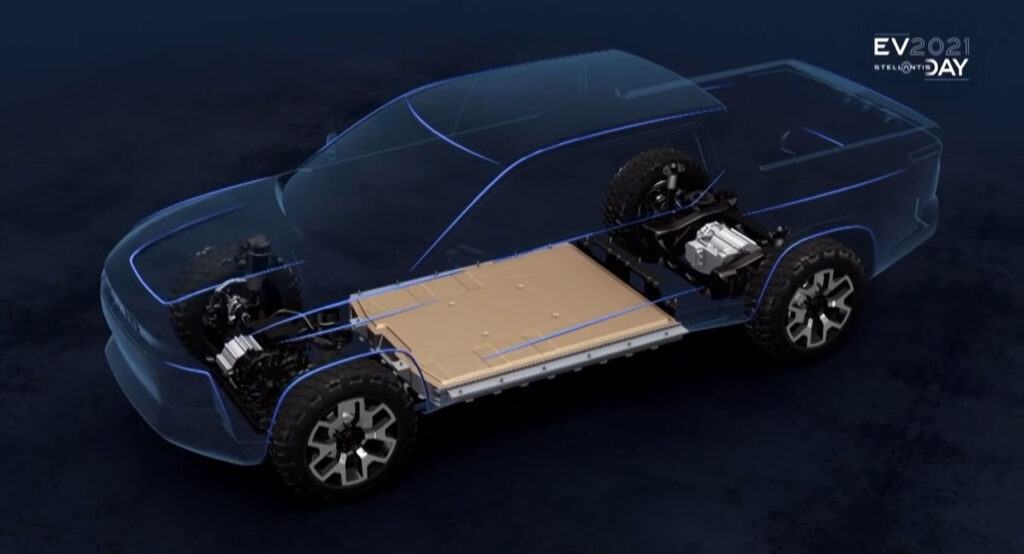 Ram is known for its big American pickup trucks, but the brand that was spun off from Dodge is set to downsize with a new mid-sized ute to take on the Ford Ranger and Toyota Hilux.
Announced at an EV Day from parent company Stellantis, the new mid-sized Ram ute is due between 2024 and 2026.
And whereas capable utes designed for serious off-roading have typically ridden on ladder frame structures, the new Ram pickup will utilise a car-based EV construction called STLA Large.
Expect EV range of up to 800km and fast charging capability.
Ram 1500 REV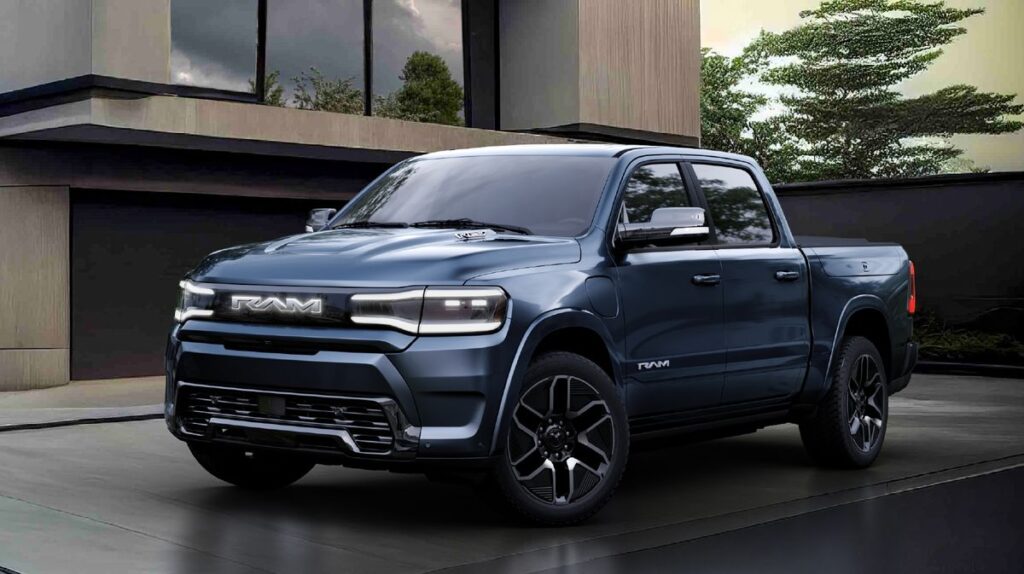 It was only a matter of time… but the sizeable Ram 1500 is set to go EV in 2024, finally taking the fight to its prime rivals, the Chevrolet Silverado and Ford F-150.
Ram revealed the car known as the 1500 REV (for revolution) early in 2023 and plans to have it in dealerships by 2024.
It's part of a €30 billion investment in electric vehicles by 2030 that will touch all 14 of the Stellantis brands.
Rather than an EV version of the regular 1500, the Ram 1500 REV uses the STLA Frame architecture and a fresh – and modern – design.
The new architecture is designed to carry batteries between 159kWh and upwards of 200kWh for an EV range of more than 800km.
Fisker Alaska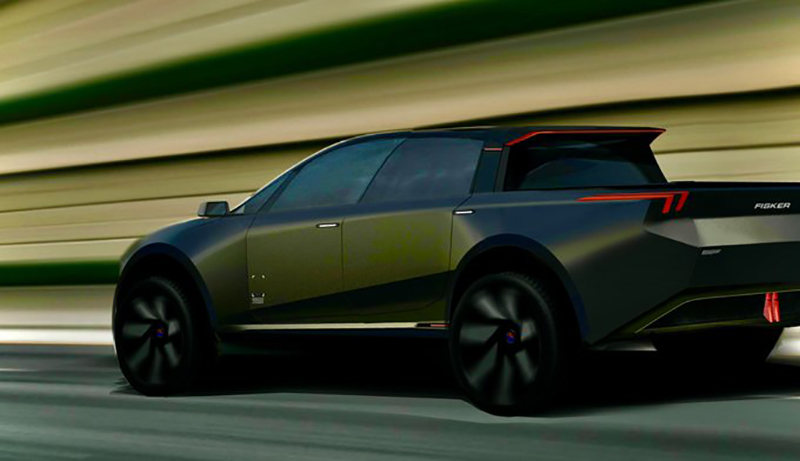 Henrik Fisker was into the electric vehicle space ahead of Elon Musk, but after various setbacks is still trying to get an EV into production.
That vehicle is the Fisker Ocean SUV, which is due in 2023 (the company has been pushing hard with pre-orders for years). But by 2025 he intends to have three more vehicles on-sale including the Alaska ute.
No details have been revealed about the Alaska as yet. We'll bring them to you i and when we find out more.
Toyota Hilux hybrid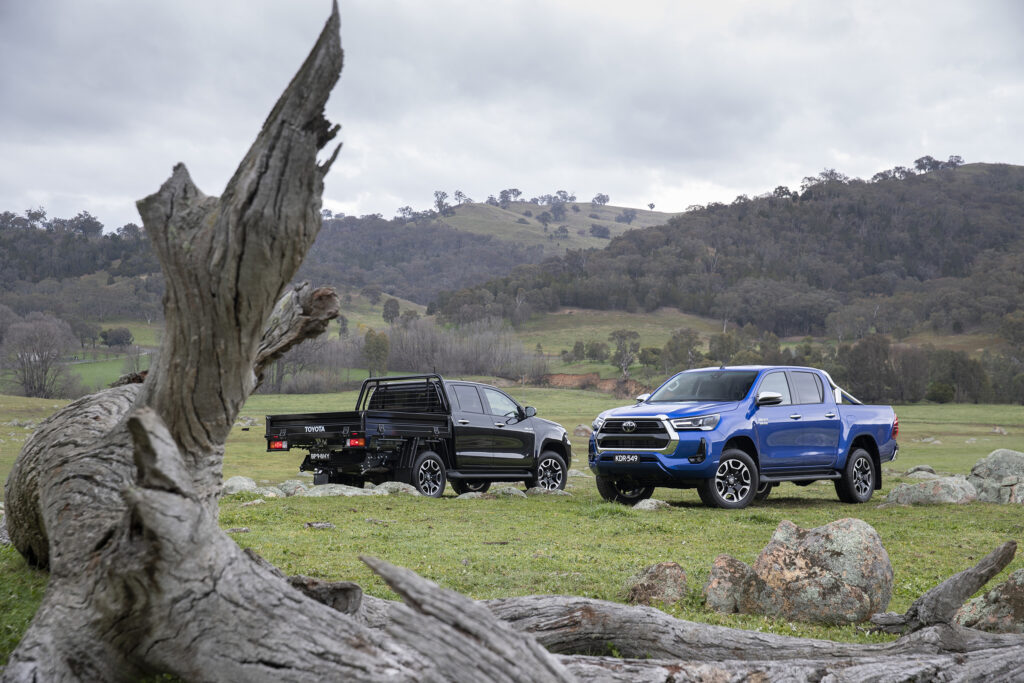 Beyond 2025 Toyota is a promising an electrified version of the top-selling HiLux ute, about which we know very little at the moment.
But more immediately there is the prospect of a mild hybrid HiLux appearing in our market, possibly linked with the arrival of an all-new model in 2024 or 2025.
Ford Ranger electric (Lightning)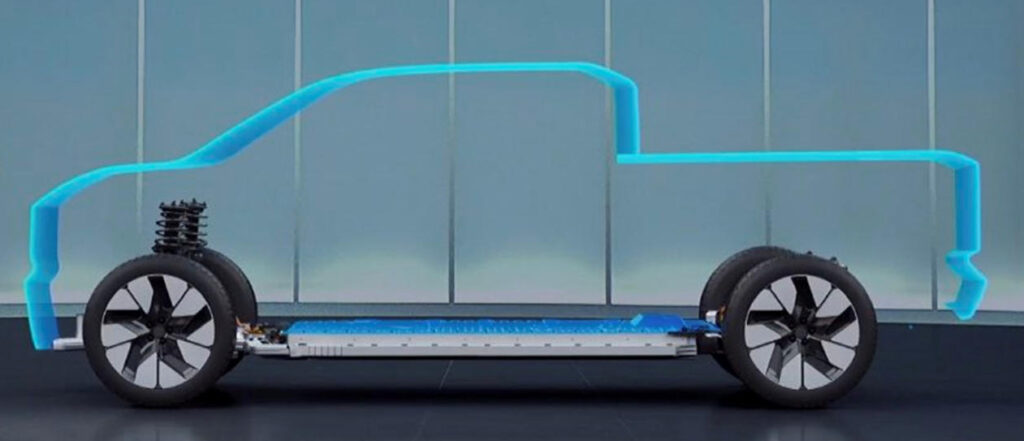 The HiLux's arch-rival, the Ford Ranger will get hybrid and EV propulsion for the model that went on sale in 2022. The Ford Bronco is also expected to feature this tech. We'll keep you posted…
But the bigger news is that Ford has also confirmed it will eventually produce an EV version of its mid-sized ute. While the Ranger wasn't mentioned specifically, Ford instead said that "mid-sized trucks" would utilise a new electric architecture that will underpin many models; the CGI above (which was created by Ford) shows the new platform and an outline of the ute body that will be fitted on top. Ford is also working on an EV version of the ladder frame architecture that underpins the T6 Ranger.
GWM Ute EV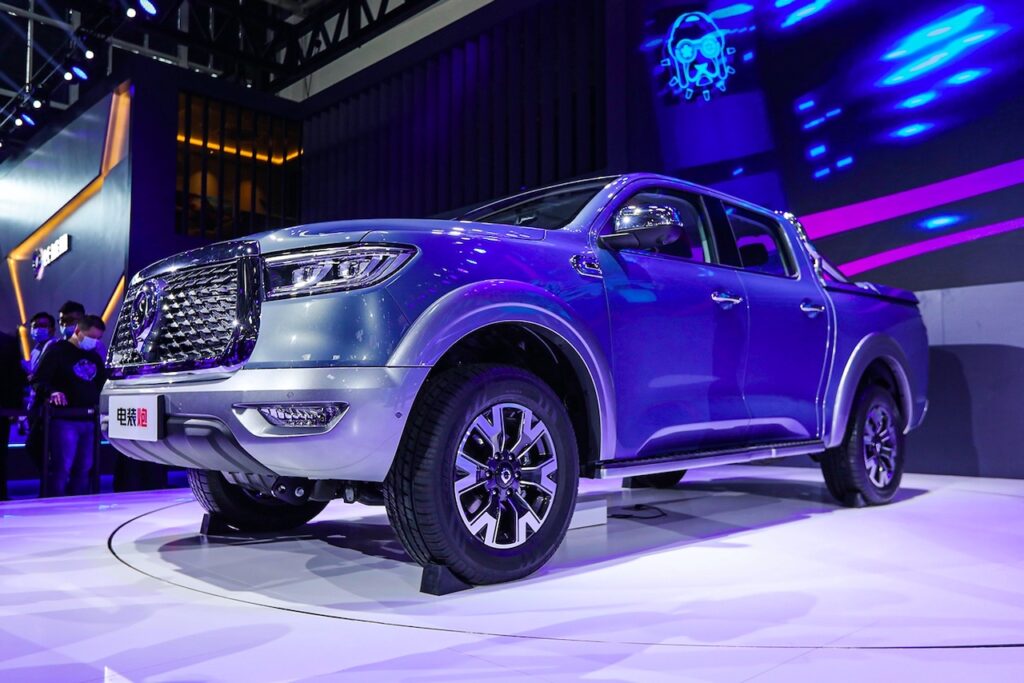 Unveiled at the Beijing auto show in September, the HiLux-sized Poer – it's simply called the Ute here – is the electrified spin-off of the Chinese pick-up that will be sold as the GWM Ute in Australia.
GWM is Great Wall Motors, one of China's biggest biggest auto groups and GWM is its commercial brand. It has sold utes in Australia for years but the new model is its best effort yet.
The Poer EV's claimed e-motor outputs are 150kW and 300Nm and the range is 405km.
Australian sales are a definite possibility.
LDV eT60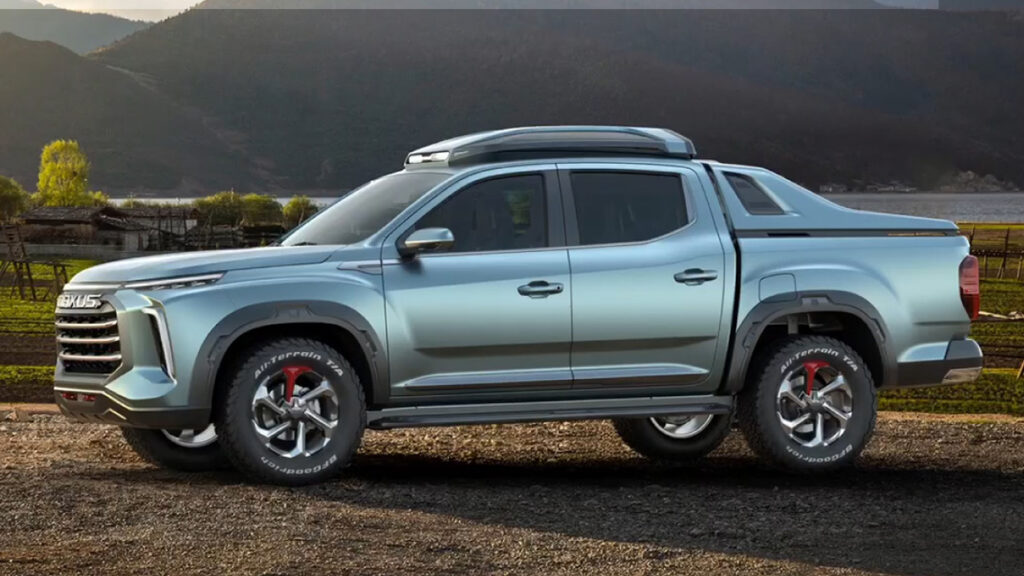 The LDV eT60 became the first electric ute to go on sale in Australia when it hit (some) dealerships late in 2022.
But it was hardly the exciting moment many had awaited. The eT60 lacks key features, can't tow much (1000kg) and doesn't go far on a charge (330km). Oh, and it's hideously expensive.
Still, it's a start…
LDV is owned by SAIC Motor Corporation, one of the big three Chinese auto brands. The eT60 gets an 88.55kWh battery powering a 160kW/310Nm motor that drives only the rear wheels.
Roev (converted EV Hilux/Ranger)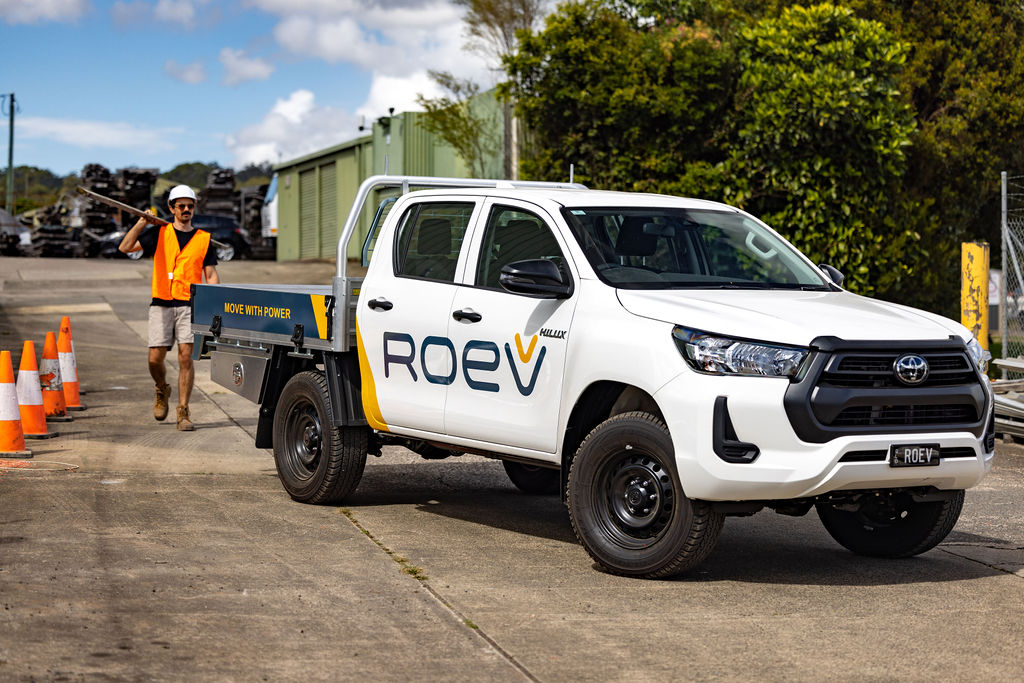 Australian manufacturer Roev has big plans to go into manufacturing of its own ute.
But the brand's start kicks off with converted versions of the Toyota Hilux and Ford Ranger from 2023.
Conversions can be done of older utes, potentially prolonging the life of an existing vehicle.
Longer term, the company also wants to have bi-directional charging as part of its ute sales pitch.
SEA (converted EV Hilux)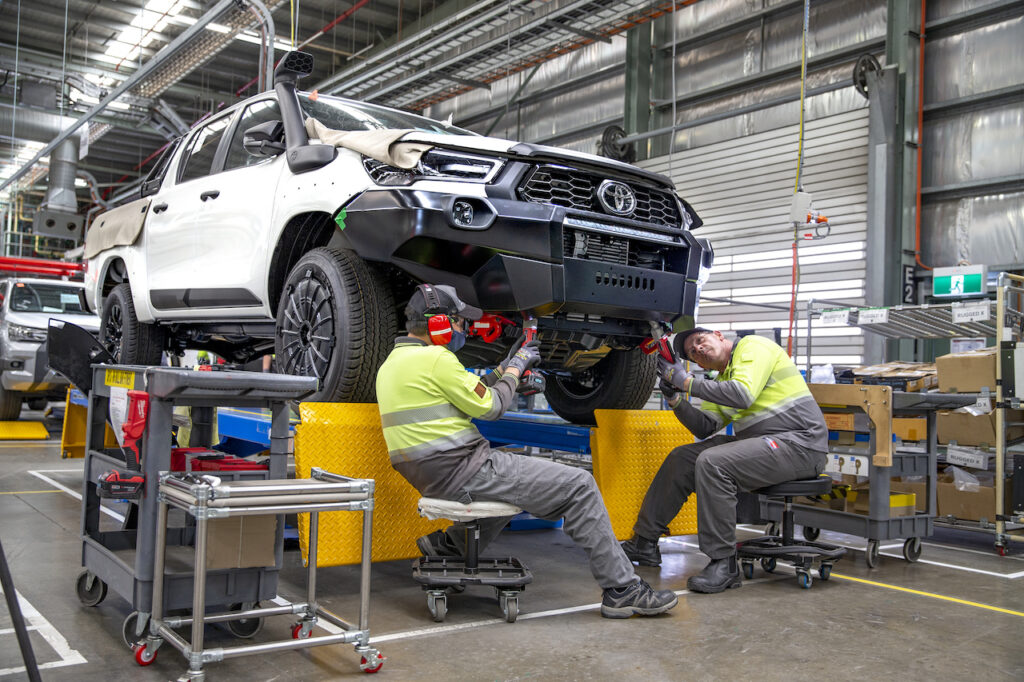 SEA already produces electric trucks, so knows plenty about EVs in commercial applications.
It wants to expand that know-how with EV versions of the Toyota Hilux.
Expect to see early examples in the second half of 2023.
H2X Warrego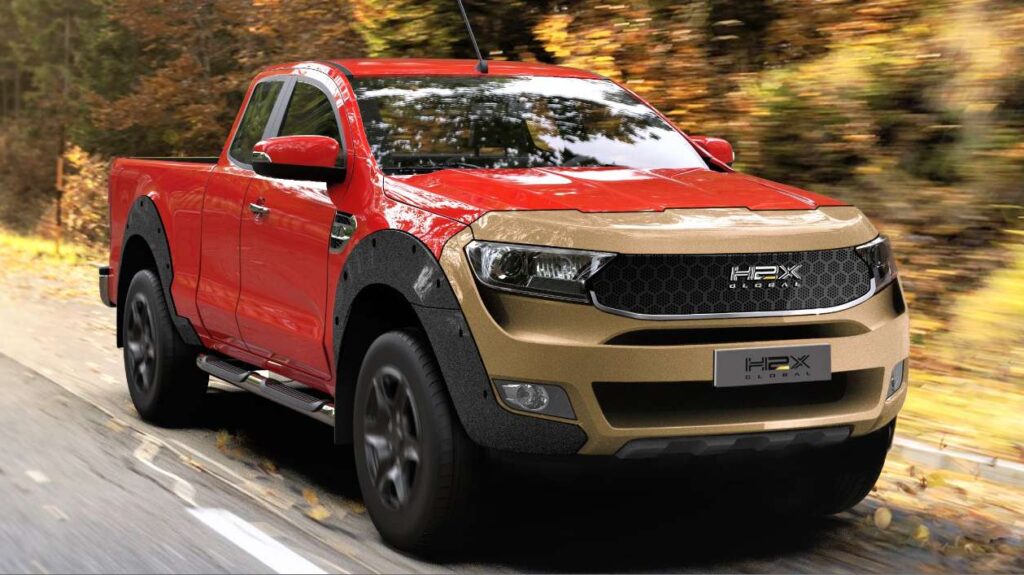 Yes, Australia even has a potential contender in this market, although the offering from EV hopeful H2X has changed significantly from its early iteration. The hydrogen start-up has repositioned itself, in turn dropping plans for the Mad Max-like Snowy ute and instead aiming to convert Ford Rangers into hydrogen fuel cell EVs.
The so-called H2X Warrego clearly won't be cheap – about $190,000 – when a limited run of 250 vehicles is due in mid-2023.
Plenty remains hazy with H2X and its future, but the company certainly has ambition. We're watching on with interest.
JAC EV ute
Chinese company JAC – best known for its trucks – has a ute coming in the form of the T9 Hunter. Due in Australia in mid-2023, the JAC T9 Hunter will also spawn an EV version.
However, the electric T9 Hunter will be limited to two-wheel drive and isn't expected to offer much power.
Beyond that, though, things get more exciting. JAC is readying an all-new ute for 2025 and there will be an EV version that is set to be a lot more exciting.
The aspirational company is benchmarking the Rivian R1T and plans to make a big impact with its yet-to-be-revealed new ute.
ACE Yewt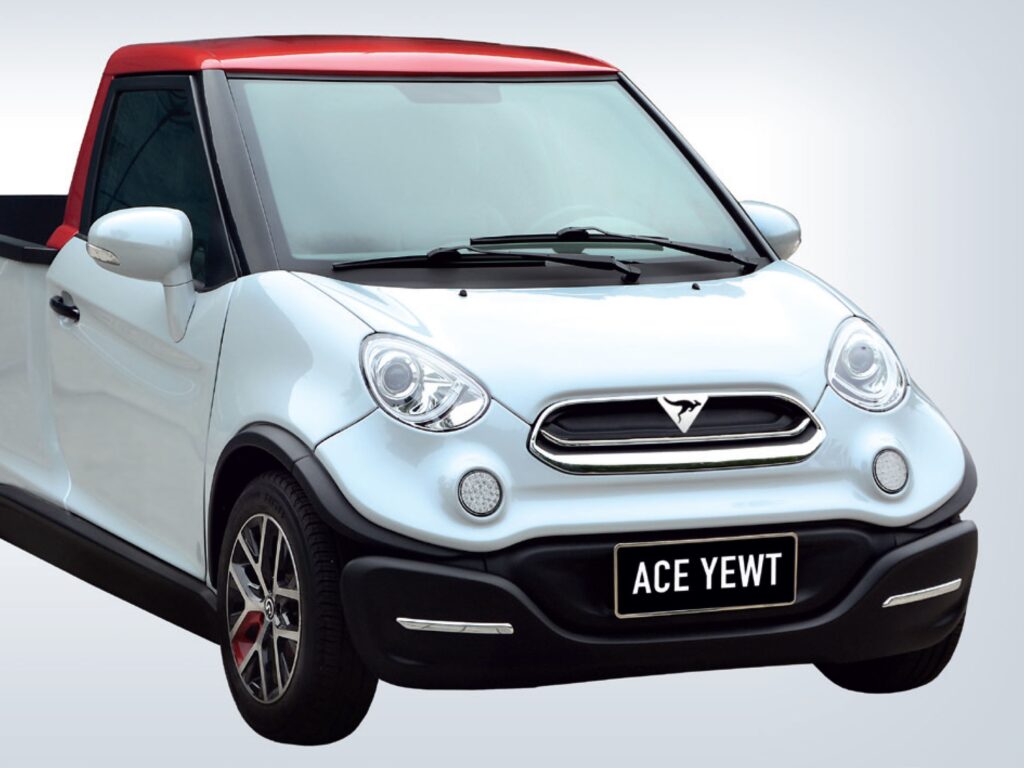 Another Aussie start-up, ACE EV (Australian Clean Energy Electric Vehicles), hoped to have its tiny Yewt in production on 2021, along with the Cargo light van.
The recent recipient of a $5 million federal government grant, ACE's Yewt is a German-Taiwanese design based around a modular carbon-fibre chassis that takes only 18 hours to assemble.
All models feature a 30kWh lithium-ion battery pack, 18kW e-motor and a range up to 180km.
Pricing is forecast to start somewhere around $40,000 – although production is yet to begin.
BYD ute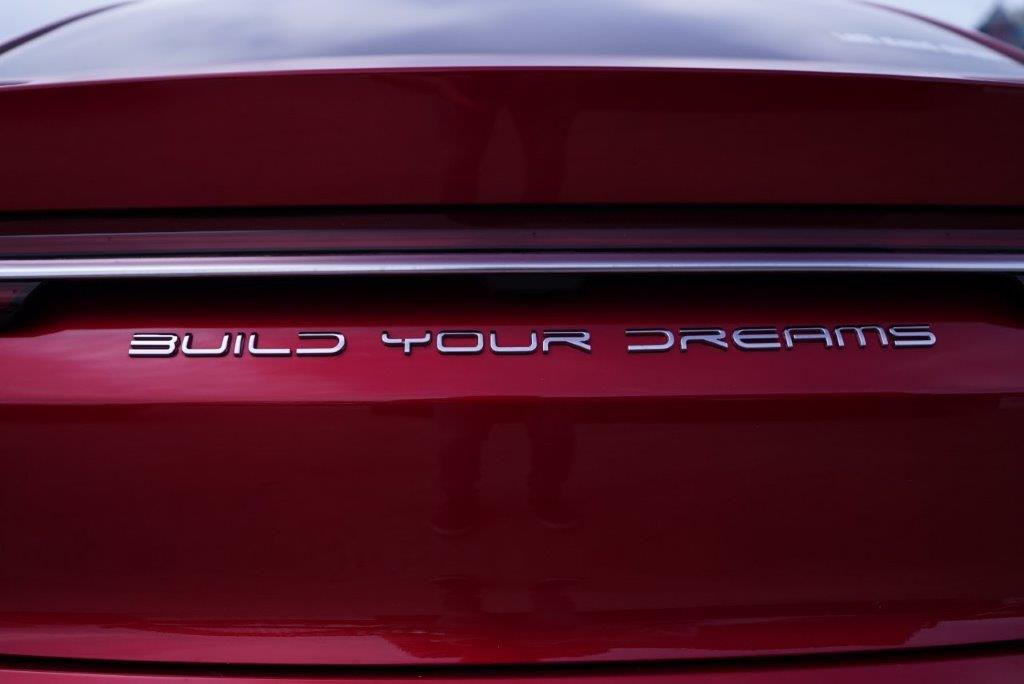 There's no concept car (yet) but BYD says there's lots of work going on behind the scenes to create an electric ute.
The Australian importer of the Chinese EV brand – one that until 2019 sold more EVs than Tesla – says there are currently EV ute prototypes being tested.
And the BYD ute won't just any electric ute, but a very affordable one. BYD's business model revolves around a family of electric cars that will be priced as sharply as the ICE and hybrids already on sale in Australia.
And if BYD importer Nexport has its way it'll be manufacturing the electric ute right here in Australia as soon as 2025.
Alpha Wolf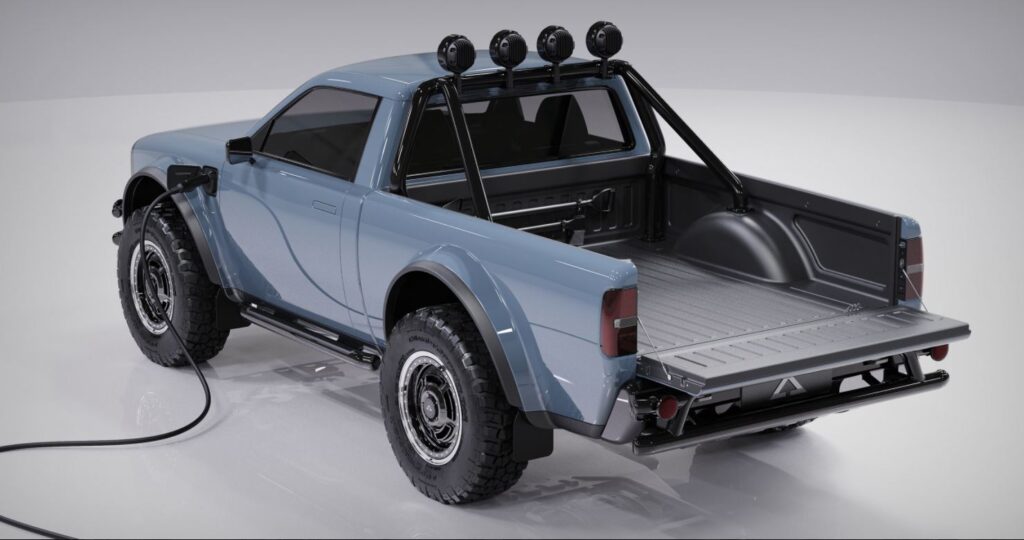 Californian-based EV start-up Alpha has already created some cooling looking sports-focused electric cars, including the Ace and Jax coupes.
But in 2021 the brand turned its attention to an utterly cool-looking two-seat ute called the Wolf.
Far from a flight of fancy, the Wolf is planned for low-volume production, with prices starting as US$36,000.
A dual motor all-wheel drive system and 85kWh battery provide 0-60mph (96km/h) in 6.2 seconds and up to 450km between charges.
Canoo EV pickup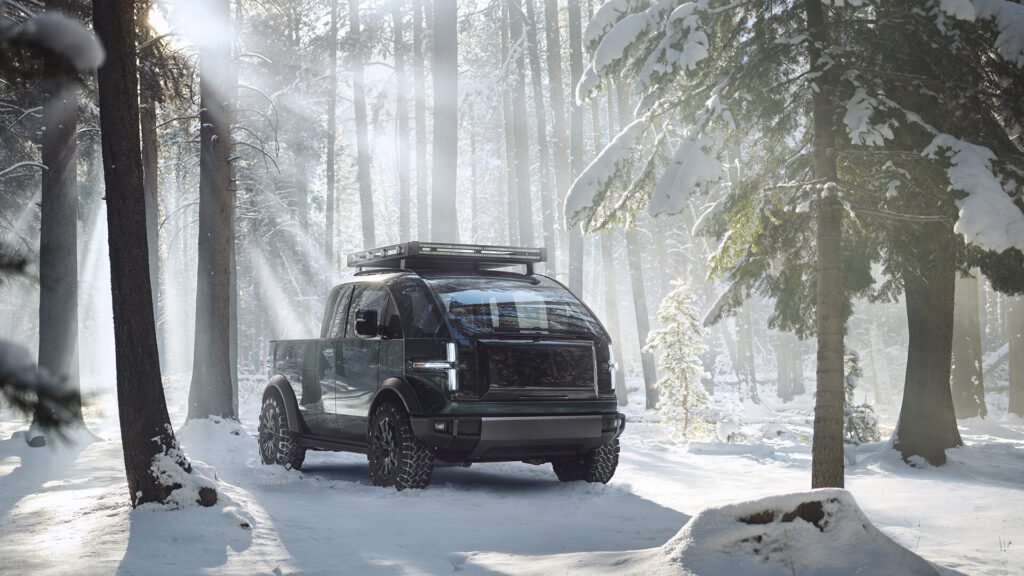 Californian start-up Canoo describes its ute as "bad to the bone" and "ready for work and the weekend", but it also does a reasonable job at getting attention.
As well as the futuristic look of the Canoo EV pickup there's some genuine thoughtfulness and innovation to the way it works as a carrier of big and/or heavy things.
Tough, too … apparently.
Yes, please!
Chevrolet Silverado EV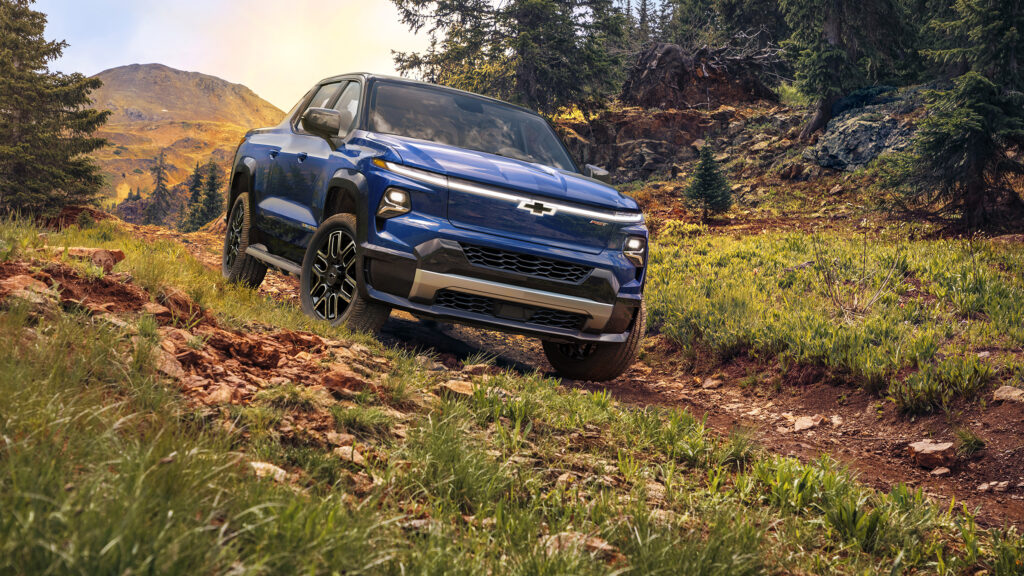 One of the most famous names in large American pickup trucks will go electric in 2023 with the Chevrolet Silverado EV.
Parent company General Motors has revealed all-electric versions of the Silverado – and it will be available in fleet and retail trim levels. While it shares its name with the regular ICE Silverado, the EV version rides on a bespoke EV architecture using GM's Ultium lithium-ion batteries. Front wheels have been pushed further forward, the cabin completely redesigned and the nose given a more futuristic look.
EV range is claimed at about 650km and there's up to 500kW of power. Chevy also says the Silverado EV will be able to tow up to nine tonnes.
GMC Sierra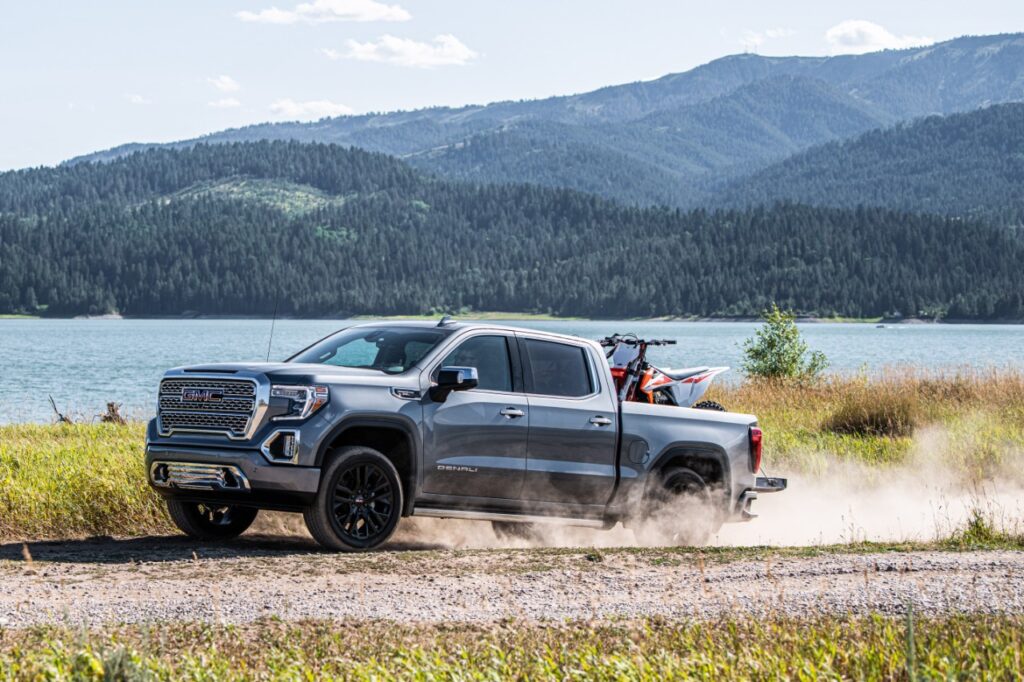 As part of the General Motors family, it was only a matter of time until tough truck brand GMC jumped aboard the electric ute thing.
After all, the GMC Sierra also shares plenty with the Chevrolet Silverado, a pickup GM has previously confirmed was to soon go electric.
Expect the Sierra EV to use many electrical components from the Silverado and Hummer EV ute (the latter wearing to be sold by GMC).
That means an Ultium battery pack and about 650km of range from a battery pack with up to 200kWh of capacity.
Just don't expect it to be high on the hit list for Australia.
Atlis XT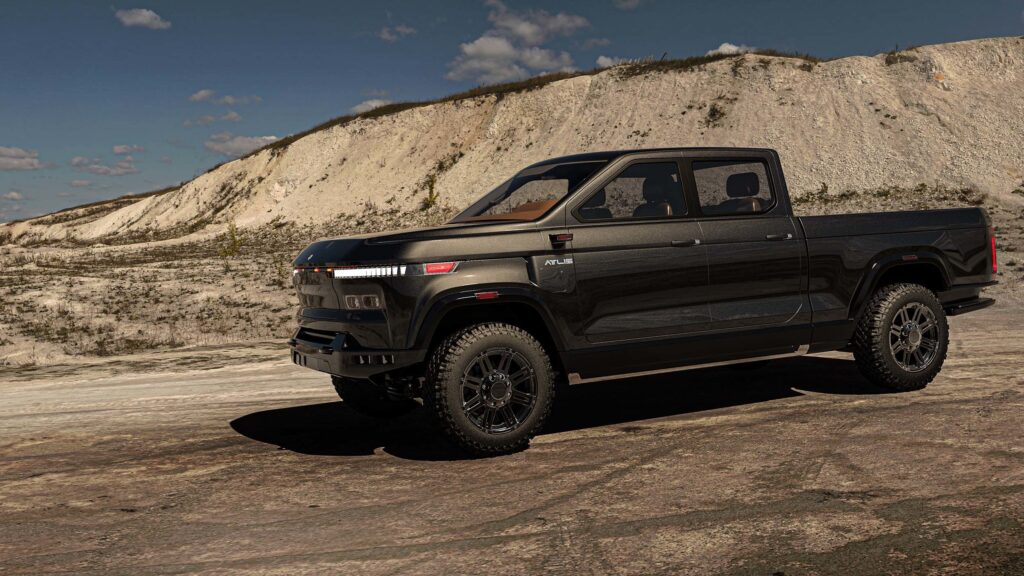 Atlis has created one of the biggest, baddest and most tech-savvy EV utes currently under development – and they could be coming to Australia.
Size is a big part of the Atlis sales pitch. And in its home market Atlis is aiming at those wanting to do serious work with their big trucks.
With four motors, the sizeable pickup has a claimed top speed of 193km/h.
Pricing starts at US$40,000 for a truck that can tow 4.5 tonnes with a regular hitch and travel up to 500km between charges.
The XT pickup can take a fifth wheel and gooseneck trailer, paving the way for towing capacities way above the 3500kg limit for utes and SUVs in Australia; Atlis suggests an overall tow capacity of almost 16 tonnes.
The top-shelf "dually" – with two rear wheels on each side – is claimed to have a 2268kg payload and be able to tow up to tow up to 7.7 tonnes and costs US$78,000 ($105,000).
Off-road is also a major focus. Because of the individual e-motors driving each wheel there is no need for differentials, something that helps ground clearance.
Atlis says it will sell some off-road-focused trucks with 15 inches of clearance – that's 381mm. They will also have 12 inches of suspension travel and be able to drive through 1000mm of water.
Glickenhaus Zero Emission Hydrogen Fuel Cell Boot Pickup
Hydrogen fuel cell seems an obvious one for pickup trucks longer term, although the lack of refueling infrastructure means it could be a slow burn.
That hasn't stopped boutique American manufacturer Glickenhaus from jumping on board early.
The company has announced plans to build a car it snappily refers to as the Zero Emission Hydrogen Fuel Cell Boot Pickup.
Founder Jim Glickenhaus has even challenged Telsa boss Elon Musk to a showdown at the 2023 Baja 1000.
The manufacturer has form in fast cars, having provided serious competition for Toyota in sports car racing.
No word yet on whether Musk will accept the challenge.
Volkswagen Scout pickup truck

So here's a left-fielder not many people saw coming.
Volkswagen is reviving its Scout brand that was made famous in the 1960s and '70s by tractor maker International Harvester. The new 21st century Scout will only make EVs.
As well as an SUV, Volkswagen says it will launch a pickup-truck that will naturally compete with any other electric utes coming soon.
No details yet on what will be beneath the skin; the only clue is the sketch you see above.
Volkswagen Australia desperately wants the Scout brand, but until at least 2027 the focus is America.