Electric Toyota HiLux firms for Australia as Revo show car's local stay extended for further study
Toyota has changed tune on electric utes declaring the HiLux Revo BEV concept recently imported as a dealer conference display a real chance to be sold in Australia if a production version is released.
It has now extended the vehicle's local stay to allow Toyota Australia engineers more evaluation time.
The Revo was a star of a Toyota product showcase in Melbourne in August at which dealers, employees and media were shown new generation models coming to Australia over the next 12 months including the 180 Series Prado, hybrid C-HR and the 48v 'it's not a mild hybrid' HiLux.
READ MORE: Is Toyota's BZ4X lease plan a stroke of genius, and are Tesla, Kia, Hyundai and others missing a trick?
READ MORE: Toyota HiLux hydrogen fuel cell prototype boasts long range and rapid refilling
READ MORE: 2024 Toyota LandCruiser Prado finally going green? Brand mulls electric, plug-in hybrid and fuel cell versions of iconic off-roader
A 4×2 single cab ute with about 300km of range, the Revo was first unveiled by Toyota's former global CEO (now chairman) Akio Toyoda in Thailand last December.
It was brought to Australia as proof of Toyota's global commitment to BEVs. Both here and overseas the sales heavyweight has been accused of dragging its feet on zero emissions tech.
It launches its first BEV in Australia in February 2024 when the updated BZ4X finally goes on-sale.
But at the showcase Toyota sales and marketing chief and most frequent and visible public spokesman Sean Hanley told media that electric utes didn't really make much sense in Australia, where turbo-diesel 4×4 dual cabs dominate sales and are critical to profitability.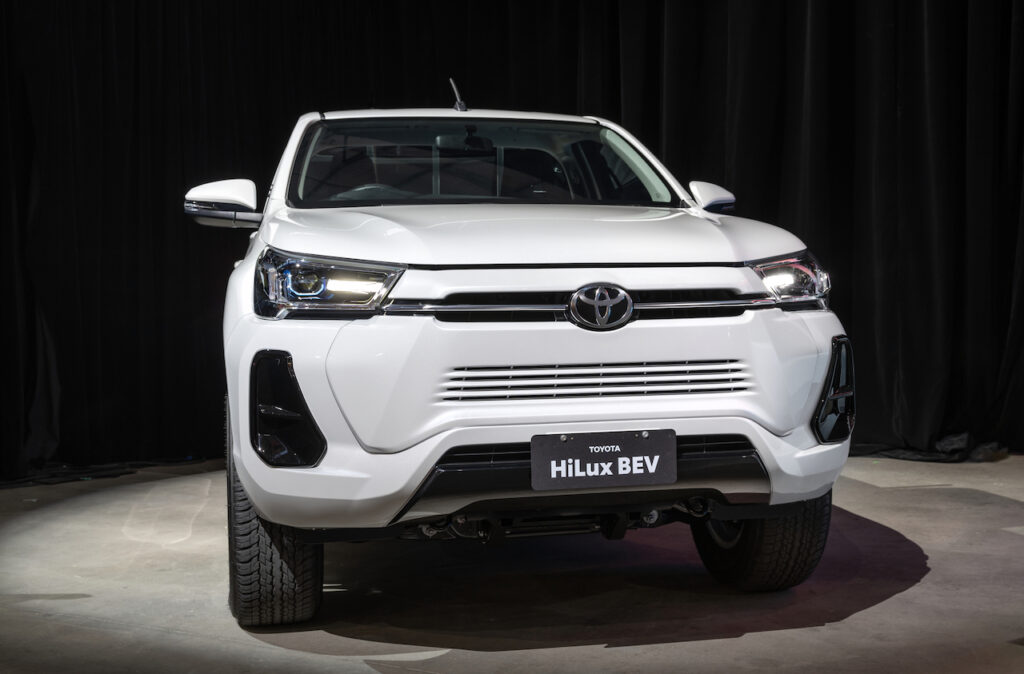 "What I am really hanging out for … is a load carrying, trailer towing, remote area, off-road, HiLux 4×4 with zero tailpipe emissions," said Hanley in August
"What a vehicle that would be. And it's possible.
"But imagine the size, weight and charging time of the battery pack to do all that and achieve 800km of range.
"Rest assured, Toyota is working on it. Of course our breakthrough work on solid state batteries may come to the fore and maybe just maybe … this is where hydrogen fuel cells could come into their own."
But a few weeks on, after having a test drive of the Revo, Hanley had gained in enthusiasm for the vehicle and the concept of a battery electric HiLux in Australia.
"When you drive a prototype you don't expect it to be perfect, but this car was … road ready," Hanley said of Revo.
Asked if his test drive had convinced him there was a sales opportunity for the Revo in Australia, Hanley replied:
"One hundred per cent I am [convinced].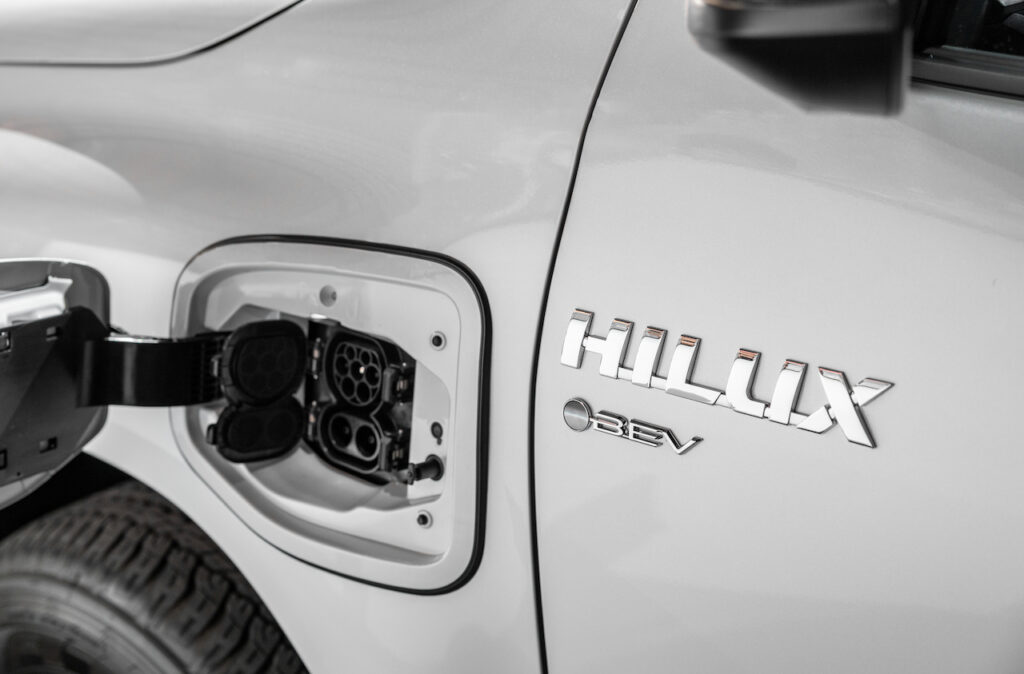 "I had not driven that car when I spoke about it the other night. I was surprised at how advanced that vehicle and how drivable it was for a concept prototype vehicle," he said.
"The good news is we are going to keep that vehicle here for a while and extensively test it."
Hanley said Revo had a potential market in city-based fleet operators such as councils, which are increasingly keen to acquire low emission vehicles.
"It has its capability limitations, it's not a car you'd take out in the bush. It's a car you'd strictly drive in the city.
"But it just showed me how advanced we were. I was pleasantly surprised how well it drove, the torque was great, the drive itself was wonderful, the braking was good, it held on to the road perfectly.
"It's a great city car and a car of the future."
It's understood Hanley had an LDV eT60 on-hand to back-to-back with the Revo, although he refused to confirm that let alone make any comparative judgements.
The only battery elctric ute currently on sale in Australia, the eT60 costs more than $90,000, is a 4×2 with pretty limited capabilities and is only really aimed at fleets and short runs thanks to its 330km claimed range.
Hanley stressed there were no plans for a production version of the Revo to come to Australia. He said he had no confirmation it would be built.
Toyota has announced a BEV ute will go into production in Asia in late 2023, but there is no confirmation the Revo is that vehicle.
Meanwhile, Hanley also expressed increased interest in the hydrogen fuel cell HiLux project that's being undertaken by Toyota in the UK.
"Our product planners will certainly get involved with that vehicle now, we'll start to get the initial testing, what it is and what it represents," he said.
"In the fullness of time hopefully we will be able to get access to it."