Toyota HiLux hydrogen fuel cell prototype boasts long range and rapid refilling
A Toyota HiLux with long electric range, strong towing capacity, off-road talents and rapid refuelling.
If relying on battery electric, the above won't happen anytime soon.
But if using hydrogen fuel cell power it starts to make sense. The technology's about there, it's just infrastructure holding things back.
Enter this intriguing hydrogen fuel cell HiLux prototype, developed by Toyota Manufacturing UK.
It employs the Toyota Mirai's core elements and promises a zero-emissions range of 590 kilometres. This, Toyota reminds us, is "significantly further than might be achieved with a battery electric system."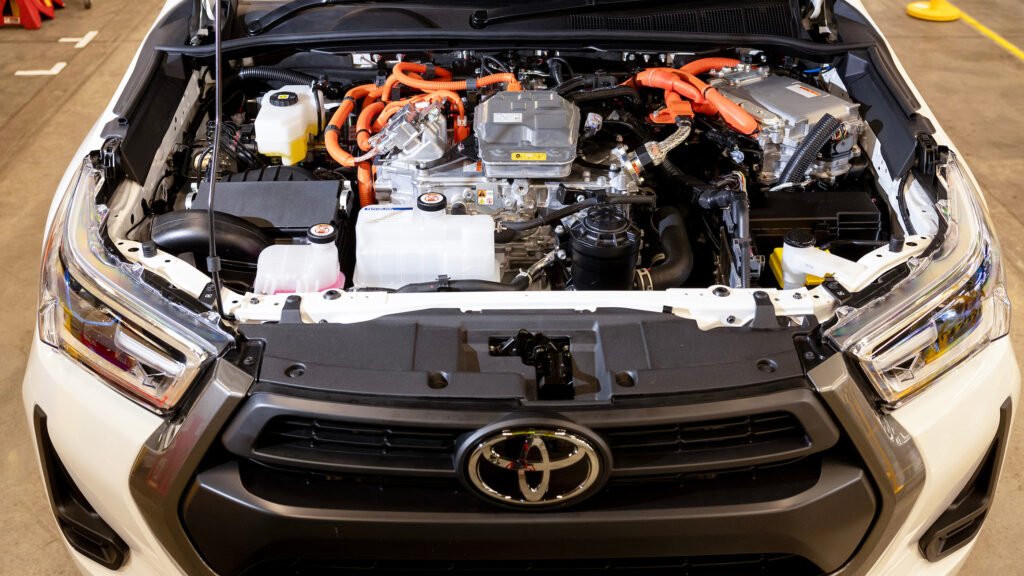 Ten hydrogen HiLuxes by year's end
After receiving UK Government funding via the Advanced Propulsion Centre (APC), Toyota Manufacturing UK has led a consortium to build this fuel cell electric vehicle (FCEV) prototype in only a few months.
It's no vanity exercise, either.
Ten hydrogen HiLuxes will be produced in 2023, before undergoing "rigorous testing around the world to ensure safety, dynamic performance, functionality and durability meet the high standards required of a production model."
Such a production model would no doubt follow the availability example of Toyota's Mirai fuel cell sedan. In Australia, it's available only as a fleet vehicle on a three-year lease arrangement, for over $65,000.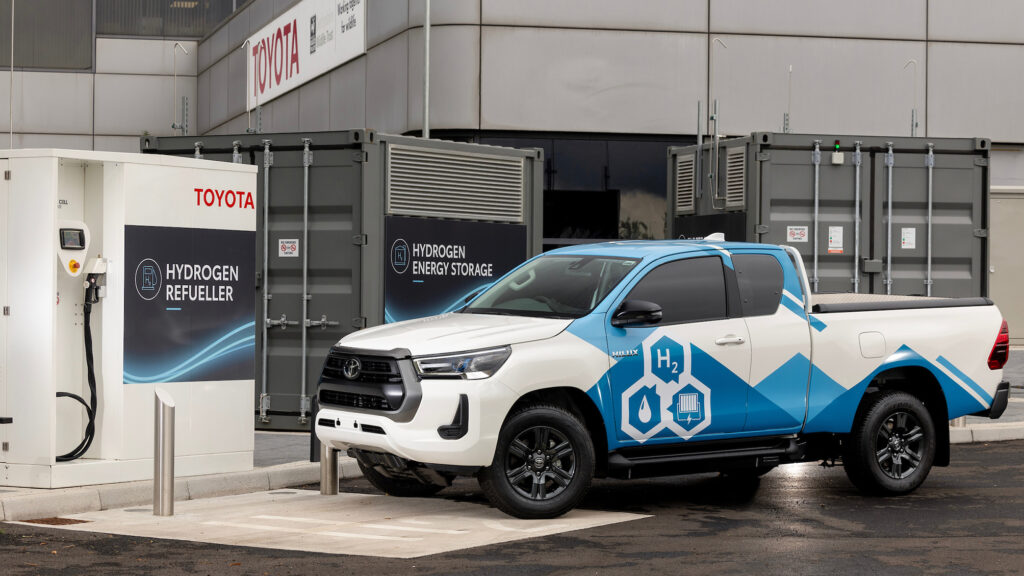 What we know about the UK's hydrogen HiLux
It's based on the HiLux Extra Cab, not the more popular dual cab body found clogging up Australian streets.
It's rear-wheel-drive only and has three high-pressure fuel tanks mounted low between the chassis rails. An on-board battery, mounted in the rear load deck, stores the electricity produced on-board by the fuel cells.
Cabin space isn't compromised by the setup, although Toyota's photos showing the tub covered by a roller canopy suggests the load area is.
No specifications have been released, but if it replicates the Mirai's figures, this HiLux has 134kW and 300Nm – some way off the current range-topping diesel HiLux GR Sport's 165kW and 550Nm.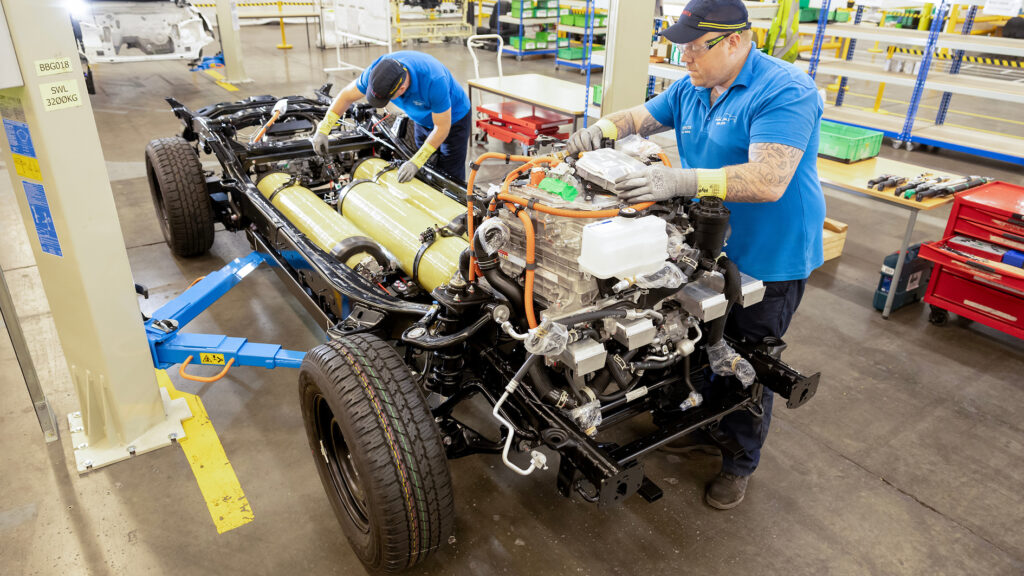 Positively, and here's a huge advantage over battery electric, the three hydrogen tanks take under five minutes to refill using a commercial refueller. And this being hydrogen, the only tailpipe emission is pure water.
Australia's poor hydrogen infrastructure an issue
"What I'm really hanging out for is exactly the same thing everyone's asking the question about," Toyota Australia's vice president of sales and marketing, Sean Hanley, said at a brand showcase event earlier this month.
"A load-carrying, trailer-towing, remote area off-road HiLux 4×4 with zero tailpipe emissions. What a vehicle that would be. And it's possible."
Sticking point on the hydrogen front is infrastructure. At present, there are a mere handful of permanent hydrogen refuelling stations in Australia, including Toyota's Altona site in Melbourne, used to recharge its Mirai FCEVs.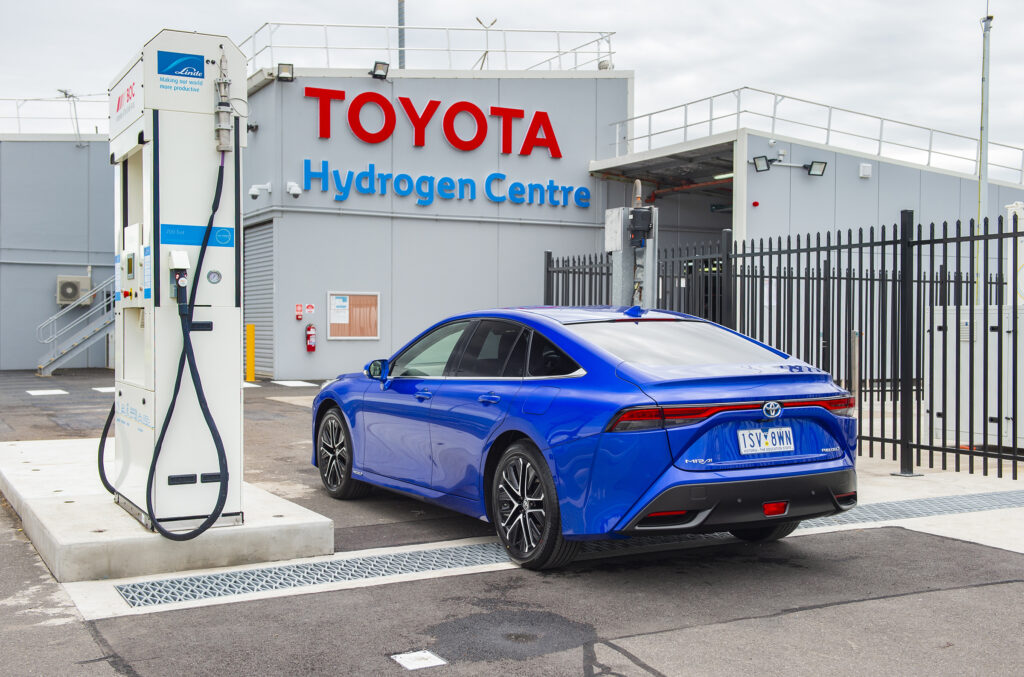 "The hydrogen horizon I think is around 2030, 2035," Hanley said. "Only because of infrastructure, not necessarily because of technology."
With that being the case, would a hydrogen HiLux like these UK prototypes likely be seen in Australia anytime soon?
"Not at this stage, no" said Hanley. "What we are saying there are all these developments around the world within Toyota and they are all things we are keeping an eye on. If they ever develop to point of production then they may be things we can draw on in the future."
Creating a "hydrogen society"
You only need look at LDV's eT60 dual cab ute effort to see some of the limitations with battery electric commercial vehicles.
Hanley has been very forward in pushing hydrogen as a better alternative. "Hydrogen provides great range, it's totally carbon neutral and it can tow," he said. "And it can handle big and heavy stuff."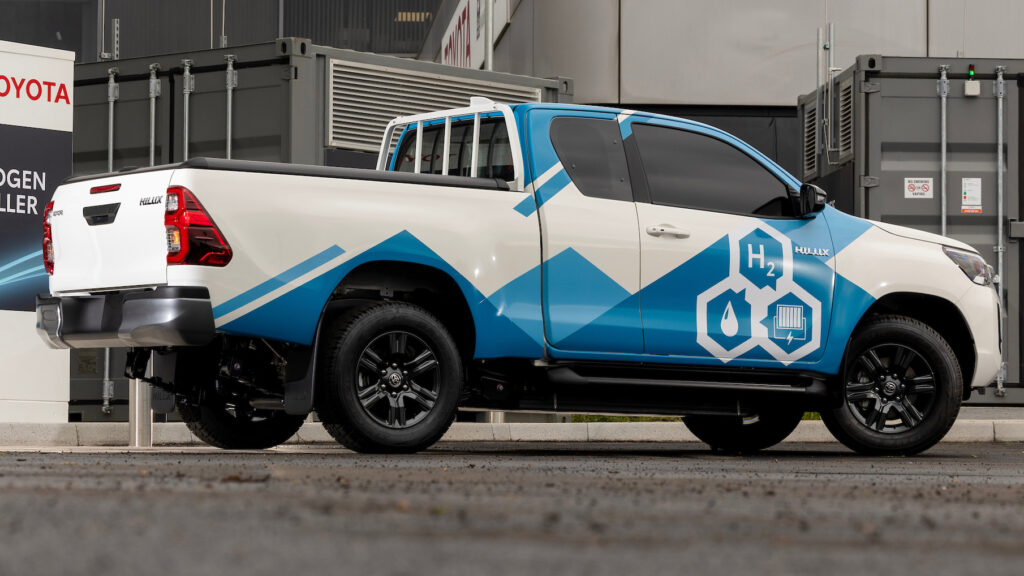 So what's needed to get the ball properly rolling for hydrogen?
"I think it's going to take government, energy companies and the OEs to come together to really drive a hydrogen society," Hanley said. "For heavy vehicle usage it is a good technology to pursue and invest in.
The other thing is Australia is rich in hydrogen as a resource so there is a wonderful opportunity for us to be one of the leading hydrogen providers in the world."
 We'll continue watching with interest.